Accident
Oct. 5, 8:27 a.m.
Location: South College Street at Sixth Street
Drivers and vehicles:
List, Amber Rose, 23; 1995 Toyota Camry

Windsor, James Eldon, 71; 2004 Chrysler Pacifica
Contributory causes: failure to yield the right of way
Citations issued to: List
Lincoln Police Department
Henderson, Steven W., 28, Lincoln, arrested Oct. 6 on Lincoln Parkway at Woodlawn on a Logan County warrant for failure to appear in answer to charge of theft.

Mileham, Scott D., 37, Lincoln, arrested Oct. 6 at his residence on charge of domestic battery.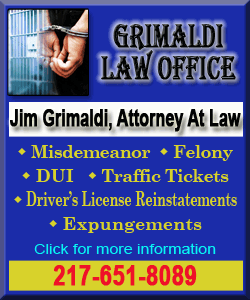 Logan County Sheriff's Department reports, Atlanta, Elkhart, Mount Pulaski, San Jose, Illinois Department of Natural Resources, Illinois State Police
No arrest reports.
___
The public is reminded that anyone is presumed innocent until charges are proven in a court of law.
[LDN]
Other recent police reports