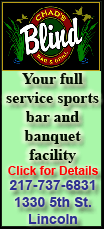 Attending the institute with Head Start management teams from across the country were Beth Fleshman, Head Start director with the Community Action Partnership of Central Illinois; Marcia Hieronymus, education services manager; and Lynnette Bruce, family community partnership manager. They participated in numerous workshops that focused on Head Start's School Readiness Initiative and the Parent, Family and Community Engagement Framework, which recognizes the importance of the family in the learning journey of children.

"It was a humbling experience to be part of such a large gathering of individuals who are dedicated to making a difference every day in the lives of the nation's most vulnerable children and families," commented the Community Action team attending the conference.

Yvette Sanchez-Fuentes, director of Head Start, welcomed over 3,000 Head Start leaders, who heard from leading experts in early childhood education.

T. Berry Brazelton, M.D., emeritus professor of pediatrics at Harvard Medical School, is one of the world's foremost authorities on pediatrics and child development. Brazelton spoke about the extraordinary work that Head Start has done for 46 years in linking the importance of the parent to the child's success in learning.

Also speaking was Jerlean Daniel, executive director of the National Association for the Education of Young Children, the nation's largest organization of early childhood education professionals working with and on behalf of children from birth through age 8.

"As you know better than anyone, the early years are critical," said Kathleen Sebelius, U.S. Department of Health and Human Services secretary. "They're when the most rapid development happens in our children's brains. The children who get the support they need during these early years are the most prepared for kindergarten. Early learning programs like Head Start can set off a chain reaction of success that follows children through every stage of their lives."
Community Action Head Start serves 418 infants, toddlers and children ages 3-5 in the six-county service area of Piatt, DeWitt, Logan, Mason, Menard and Fulton counties.
Community Action is a private, nonprofit organization that provides low-income families and seniors in the six-county area with a variety of services. For more information, visit www.capcil.org.
[Text from file received from Community Action Partnership of Central Illinois]