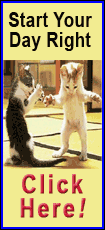 An investor at Tuesday's annual meeting wanted the company to announce what political contributions it plans to make and allow an advisory shareholder vote on the donations. CEO Bob McDonald said the company opposed limiting itself that way, but he promised to look closely at future contributions.
People for Ethical Treatment of Animals wants P&G to end laboratory confinement of dogs and cats for testing of Iams brand pet foods. McDonald said P&G has sharply reduced such testing, though some is still needed to ensure product safety and quality.
Shareholders rejected both proposals Tuesday and re-elected P&G's 11-member board.