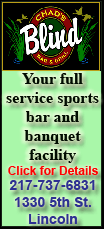 The Railers (2-5) and the Tornados (1-6) have comparable records.

They also have comparable enrollment sizes. Taylorville has 898 students, while Lincoln's enrollment is listed at 855.

When the two teams met last season, the game was evenly played, with the Railers scoring an overtime victory at Taylorville.

So, when you factor in the emotions of Senior Night, what do you have?

One might say, "A classic."

"We expect it to be a very competitive game, sure," said Lincoln coach Andy McDonald. "We match up well with them and always have. Traditionally, they're a very tough team, a very physical and aggressive team.

"It's a game that we feel like, if come out, do what we should, play hard -- which I expect we will -- and are efficient, then we've got a great chance at a W."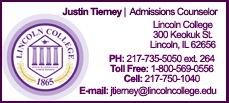 Going out on top at home
A large percentage of the Railer squad will be playing their last game at Handlin Field.
Lincoln features 19 seniors. They constitute the majority of the starting lineup on both sides of the ball.
Quarterback James Leisinger, a senior and three-year starter, said described his feelings as "not really nervous, but anxious, excited and a little bit sad."
"I just want to play the game," said Leisinger, who could also set career passing records in the contest. "I want to make it last forever."
McDonald expects his team to be fired up.
"It will be a very emotional night, from beginning to end, win or lose," said McDonald.
"With 19 seniors, that just adds to it. It's a big chunk of our team that are guys who've been playing for four years. Some of them have an idea that this is their last home game. Others, it will take a while to sink in."
Asked if he was concerned about too much emotion that could lead to a lack of focus, McDonald said no.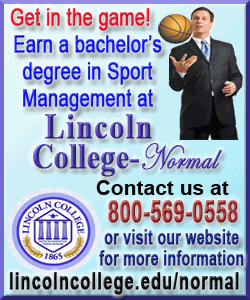 "I don't think so," said McDonald. "I'd rather have them too psyched up or fired up than not."
Then the coach smiled and added: "Leisinger may be the only one that I would make an exception for that. We may have to calm him down a little bit."
Mirror, mirror on the wall, who's the finest flexbone of them all?
This season's game will have an added twist from the Tornados.
This year, Taylorville is running the same offense that Lincoln traditionally runs: the flexbone.
The offense uses wingbacks, who stand at the quarterback's flank pre-snap. With a variety of sweeps, counters and option plays, along with fullback dives and passing plays, it's an offense that is strong in diversity and creativity.
Taylorville's variation differs in the amount of quarterback option plays, according to McDonald.
"They run a lot more option than we do," McDonald said. "But this is a chance for us to show them that we run that offense better than they do and that we can stop that offense."
[By JUSTIN TIERNEY]
Justin Tierney's Railer football reports