The crash Thursday morning on U.S. 287 near Kit Carson also injured seven other children, ages 3 to 17, the couple had taken in.
Of those, one was in serious condition Friday, three were upgraded to fair condition, and one who had been wearing a seat belt was released. The other children's conditions weren't released. The driver of the trailer also is out of the hospital.
Cheyenne County sheriff's deputy Howard Mitchell, 57, had been driving the children from Kit Carson to school in Eads, another small farm town. Only 26 feet of skid marks were found at the accident site, Colorado State Patrol Trooper T.A. Ortiz said.
It's not clear what happened before the crash, but authorities have ruled out cellphone use, alcohol or drugs as factors in the collision.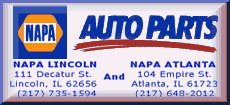 It happened about 20 minutes after sunrise, and weather conditions were clear with no wind gusts along the north-south highway heavily used by tractor-trailers.
"Of course he had 12 kids in the van, and there will probably be some distraction, but nothing we can prove," Ortiz said. "We can only make our best educated guess as to why. The main factor is probably going to be speed."
The speed limit on the highway is 65 mph but was lower in the construction zone. A final report that would state how fast the van was traveling is not expected for weeks.
Colorado's Department of Human Services was also investigating the crash. Spokeswoman Dee Martinez declined to elaborate, other than to say, "Ultimately, foster kids are under our care and we always work to make sure they are safe and secure."
The collision killed Austyn Atkinson, 11; Tony Mitchell, 10; Tayla Mitchell, 10; Andy Dawson, 13; and Jeremy Franks, 17.
Howard Mitchell and his wife, Melody, operated a state-licensed group home for foster kids in Kit Carson, but their children attended school in Eads.
Gerald Keefe, superintendent of the Kit Carson R-1 School District, said the Mitchells began sending their children to Eads after the Kit Carson school board declined in 2007 to support the Mitchells' application for a group home.
Keefe said group homes can accept children who have had trouble with the law. The Kit Carson board declined to support the application after residents said it would place a strain on the town's 115-student district.
Glenn Smith, superintendent of Eads School District RE-1, said the Mitchells sent their foster and adopted children to the Eads school because they seemed to thrive there. He and Eads High School principal Betsy Bennett said the Mitchells were dedicated to making their children "developing citizens."