Darden Restaurants Inc. was unveiling the changes Thursday, with the first lady on hand to lend support.
The company will pledge to reduce the calories and sodium in all its meals by 10 percent over five years, and by 20 percent over 10 years. For children, French fries and sugar-sweetened beverages will become the exception and not the rule.
All kids' meals will automatically come with a side of fruit or vegetables and eight ounces of 1 percent milk unless an adult requests a substitute, Drew Madsen, president and chief operating officer of Orlando, Fla.-based Darden, told The Associated Press.
"We think it's the most comprehensive health and wellness commitment in the industry," he said.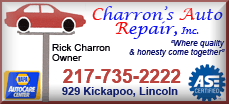 Darden's restaurants serve more than 400 million meals annually at more than 1,900 locations nationwide. Its four other restaurant chains are LongHorn Steakhouse, The Capital Grille, Bahama Breeze and Seasons 52. The Capital Grille and Seasons 52 do not have children's menus.
Darden's promise is part of a trend by the restaurant industry to serve healthier food.
Since the beginning of the year, McDonald's, Burger King, Chili's, IHOP, Friendly's and more than a dozen other large and small chains have said they will begin replacing the French fries in children's meals with fruit and removing enticing pictures of less healthy items from their menus.
Diners have become more health conscious and are asking for improvements, such as for their meals to be cooked without butter or with less salt or to be prepared any way but fried. Then there's Mrs. Obama's campaign to bring down childhood obesity rates.
One in three U.S. children is overweight or obese, putting them at greater risk of developing diabetes, heart disease or other health conditions. Mrs. Obama has said she wants to help today's youngsters become adults at a healthy weight by eating better and getting more exercise.
In a speech a year ago to the National Restaurant Association, the first lady asked members to "actively promote healthy foods and healthy habits to our kids." Consumers, she said, spend half their food dollars on meals outside the home and eat one in three meals at a restaurant. She suggested serving low-fat milk and healthy sides like apple slices or carrots and making French fries available only upon request.
White House domestic policy adviser Melody Barnes said Darden's announcement amounts to a "full-throated endorsement" of the types of changes Mrs. Obama has asked the nation's restaurant owners and operators to make.