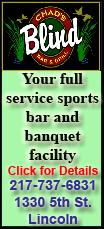 Games they could have won. Games that maybe they should have won.

During last season's 3-6 campaign, a 34-27 loss to Springfield Lanphier still stands out as the one that got away from the Lincoln Railers.

Entering Friday's 7 p.m. rematch at Memorial Stadium, the objective for this year's Railer squad is to not look back next season with the same kind of regret.

"We've talked to the players just a little bit about the fact that just since (offensive coordinator Davis Hodom) and I have been here, we've only beaten them once," said Lincoln coach Andy McDonald when asked about his team's history with the Lions. "We just kind of questioned if maybe, for some reason, we've taken them lightly.
"We have no business doing that. We're in no position to take anybody lightly, in any week. We've got to come out ready to play as if they were the top team in the conference or our biggest rival."
The difference in last season's Lanphier game has reared its ugly head in every game this season for the Railers: turnovers. After entering halftime with a 20-14 lead, Lincoln allowed three second-half turnovers, which ultimately allowed Lanphier to take the lead and hold on for a narrow victory, despite a furious Railer comeback in the final minutes.

Containing Clemons
Another major factor in last season's contest was the performance of Everett Clemons, the Lions' dynamic running back.

Clemons dashed for 161 yards and three touchdowns on 24 carries, gashing the Railer defense for multiple lengthy touchdown runs.

A force on the basketball court as well, Clemons' greatest asset is his breakaway speed, which also allows him to hit seams in the opposing defense.

"We can play a defense perfectly up until the point of making a tackle, and he's capable of taking the play a completely different direction, cutting back, breaking a tackle and going," said McDonald of Clemons.
"We have to play defense as well as it can be played through the tackle and have multiple guys making the tackle."

Walking with swagger
Despite their 0-3 record, McDonald said he felt a pep in his team's step this week after a good performance in a 10-0 loss to highly regarded Jacksonville last week.

"I think it was a confidence-booster," said McDonald. "We had high expectations going into the season, and losing the first couple games, and Canton being a game where we were similar athletically and losing that one (was difficult).

"I think playing as well as we did against Jacksonville and as hard as we did ... I think the guys gained some confidence there. We know what kind of program Jacksonville has and what they do every year. I think taking them on like we did was definitely a confidence-booster."
[By JUSTIN TIERNEY]
Justin Tierney's Railer football reports