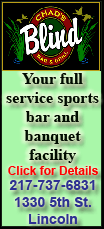 McDonald expects tonight's homecoming game to be great as well, but, for a somewhat different reason:

This week, it's a great challenge.

The Chatham-Glenwood Titans come to Handlin Field for tonight's homecoming contest. With them, they bring a 4-1 overall record and the No. 6 ranking in the latest state poll.

McDonald sees the game as a huge opportunity for his squad.

Just how much have the Railers improved recently? Where do they stand after five games this season? Can they compete with one of the best teams in the state of Illinois?

Those are the questions the coach has asked his team this week.
"We've been emphasizing the progress that we feel we've made the last three weeks," said McDonald. "And hopefully, building and establishing the confidence that if we come in this week, and we go out and play hard and like we're capable of doing, then we'll compete with Chatham. They're a great program and team, with that No. 6 ranking."

For McDonald, the Titans are a very comparable opponent to Rochester, the team the Railers played in their season-opener. Rochester also currently carries a 4-1 record.

"We came out against Rochester and it was kind of the same feeling. We were jacked up for Rochester, the defending state champions. What a great way to start the year really, in terms of being a challenge," said McDonald. "We kind of handed it to them by putting the ball on the ground. But we competed with them.

"Same thing with Canton... and Jacksonville, where we played with them and competed. Then the last two weeks, we've taken some big steps forward. This is another neat opportunity to see how much better we've really gotten."

Homecoming hype -- fun, but not distracting
Homecoming week always presents challenges off the field for a coaching staff as well.

With so many things going on -- spirit days, float building, Wacky Olympics, Saturday night's dance -- there's no shortage of distractions to take players' minds off Friday night's game.

This has been McDonald's first homecoming game as a head coach, and he admitted finding a balance between pushing his players to focus and allowing them to have fun was a challenge.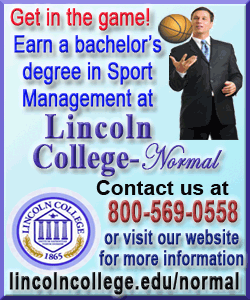 "It's a little bit of a delicate situation I guess, in that you want the kids to be focused on football, but enjoy the homecoming stuff," said McDonald. "I think a lot of the guys are pretty involved in it, with the dress-up days and different things. You want the guys to enjoy the high school experience of homecoming, but you've also got to reel them back in and not lose focus on Friday night.

"You have to be careful. It would be easy to feel like, as a coach, to just squash the whole homecoming activities and get their mind on the game. But I don't want to do that. I want them to have fun."
Courtwright's "homecoming" a season-long experience
One member of the Railer football program who should be especially revved up for Friday's contest is assistant coach Curt Courtwright.

Of course, Courtwright is sort of always revved up.

A star on the gridiron in his own playing days before playing college baseball at Missouri State, Courtwright brings the type of youthful exuberance to the sidelines that one would expect from a recent college graduate.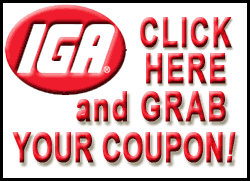 And McDonald wouldn't have it any other way and says Courtwright's role as a sparkplug is an important one for his coaching staff.

"Tony Dungy has talked about, when he was making his coaching staffs, to always have (a diverse group)," said McDonald. "You've got your older guys and your younger guys, the high, intense guys that are jumping around. A good mix.

"(Courtwright) kind of gives us that. The high-intensity, high-energy guy. He's been very into his role in working with defensive backs and running backs and the freshman defense. He's been very into that."
[By JUSTIN TIERNEY]