Park district notes
From Roy Logan, program coordinator

Send a link to a friend
[February 22, 2012] It won't be long until you hear the shout "play ball" and the crack of the bat. Baseball and softball registrations began Saturday, Feb. 4, and run through Saturday, April 7, at the park district front offices. Fliers will be sent to the schools, and other information will be released in the media. Fees will be the same as last year.
* * *
We are offering tennis lessons on our indoor courts. Players will be divided by age groups. Lessons are tailored for the beginners to intermediate skill levels, focusing on forehand and backhand, serve and strategy. All players should bring their own racquet. Tennis balls will be provided. Julie Harris Larson, a former tournament tennis player, will be our instructor. Lessons will begin Sunday afternoon, March 11, and go for four weeks. Class for youth from kindergarten through second grade will be from 1:10 to 2 p.m. Third through fifth grades will meet from 2 to 3 p.m., and players in sixth grade and up will meet from 3 to 4 p.m.
* * *
You have a story to tell? The Lincoln Park District can help.
Join author Mike Fak for an informative morning on how to get your life stories into a book for your family to enjoy for generations.
Mike, who is currently working on his fourth personal book, is also helping his 14th client get her memoirs recorded for future generations of her family to enjoy.
The course will be on Saturday morning, March 24, and will start at 9 with coffee and doughnuts. The balance of the morning, Mike will take you step by step through the process of planning, organizing, writing and getting your book printed for very little cost.
"In some cases, I have had clients want hundreds of books printed, in others just a few for grandchildren," Mike said. "Either way, I can explain how to have that life story of yours ready, bound and delivered for no more than you would pay for a book at a discount book store."
The price for this course is only $5. Seating is limited, so call the park district or stop in today to register.
* * *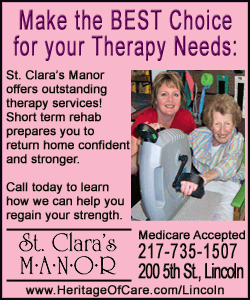 We will offer an "Eat What You Learn" cooking class. Designed for the "lightly seasoned" cook, this four-week course will be an introduction to basic food preparation. We are inviting adults, young and old, couples or singles wanting to improve their skills. Veteran cooks Deb Rohrer and Roy Logan will be your instructors. Both of these cooks have years of experience behind them. Many of you will know Deb from her Lincoln Daily News "Grab Your Fork" page, and Roy is known from his restaurant background.
Grab an apron, if you want, and bring your appetite because each week we will explore everyday foods. Learn how to cut meat, how to save a lot of money in the grocery store and what to do with the leftovers to make them interesting as well. Each week will consist of grazing on a full meal. We will show you how to take it from the refrigerator to the stove or oven and on to the table. Pork, beef and chicken will be presented, with a number of recipe variations included.
Bring us your questions, along with your appetites; we are here to teach.
The class is on Mondays, March 26, April 2, 9 and 16, from 6:06 to 8 p.m. Preregistration is a must, with a minimum of six students and a maximum of nine. The cost is $45 per person for park district residents and $54 for those outside the district.
[Text from file received from Roy Logan, Lincoln Park District]