This year's service will be hosted by Pastor Ron Otto and the Lincoln Christian Church family. Pastor Glenn Shelton of Second Baptist Church will bring the message. Many other local pastors and leaders of affiliate ministries will also participate in the service.

A love offering will be received and split three ways: for the Pregnancy Resource Center, Genesis Ministries and Salvation Army.

Child care will be provided for the service.

For more information about this service or the ministerial association, contact Pastor Larry Crawford of Open Arms Christian Fellowship, this year's president of the ministerial group, at 732-4800; Pastor Dustin Fulton of Jefferson Street Christian Church, this year's vice president, at 732-9294; or Pastor Mark Kaley of First United Methodist Church, this year's secretary, at 732-2204.
---

Lincoln Writer's Club will meet April 10

Lincoln Writer's Club will meet Tuesday, April 10, at 6:30 p.m. in the Alumni Room of the Lincoln College dining hall.

Suggested topics: your favorite season, a historical figure, an event in the news or childhood summer memories.

All are welcome. For more information, call 732-2723.
---

Mount Pulaski water main flushing program

MOUNT PULASKI -- The Mount Pulaski water department will flush the water mains on the following dates, weather permitting: Tuesday, April 10, and Wednesday, April 11.

The system will be flushed at night, from 10 p.m. to 4 a.m.

The water main flushing will cause the water to become cloudy. The water is safe to drink. The cloudiness will last approximately one day after each flushing. Laundry should be scheduled accordingly.

For more information, call City Hall at 792-3222.
---

Lincoln Jaycees announce mower clinic and Schwan's truck sale
Get your mower ready for the season. Bring in your push mower (no riding mowers) and the Jaycees will change the oil, change the spark plug, sharpen the blade, clean the mower deck and check the air filter. For more information, contact Thomas Hackett, 217-871-0260.
Mowers may be dropped off from 9 a.m. to 3 p.m. on Saturday, April 14, at the Lincoln Jaycees Center, 325 S. Chicago St. Mowers may be picked up Sunday, April 15, from noon to 5 p.m.
Also, look for the Schwan's truck out front from 9 a.m. to noon during the mower drop-off on April 14. Schwan's food products will be available for purchase, with a portion of the sales going to the Lincoln Jaycees.
___
The Lincoln Jaycees are a not-for-profit organization serving Lincoln and the surrounding communities. The organization gives young people between the ages of 18 and 40 the tools they need to build the bridges of success for themselves in the areas of business development, management skills, individual training, community service and international connections.
---

City of Lincoln's spring landscape waste pickup
The street and alley department in Lincoln will provide the annual landscape waste pickup on the following dates:
Ward 1 -- April 9 and 30

Ward 2 -- April 10 and May 1

Ward 3 -- April 11 and May 2

Ward 4 -- April 12 and May 3

Ward 5 -- April 13 and May 4
All landscape waste must be placed curbside by 7 a.m. on the appropriate date. Brush must be stacked, and no limbs can be over 10 feet in length. Leaves must be in biodegradable bags. The department will not take any landscape timbers, railroad ties or any building materials.
Starting April 9 through May 6, the facility will be open Monday through Saturday, 8 a.m.-3:50 p.m.
---

Landscape waste pickup schedule in Mount Pulaski
MOUNT PULASKI -- Pickup dates for landscape waste in Mount Pulaski are scheduled for April 2, May 7, June 4, July 2, Aug. 6, Sept. 4, Oct. 1, Nov. 5 and Dec. 3.
On the above dates, the city of Mount Pulaski will remove landscape waste that has been placed within the area between the sidewalk and the edge of the street. If the weather is bad on the scheduled dates, then the pickup will be on the next day with good weather.
The following rules must be followed:
1. Have your landscape waste ready for pickup by 7 a.m. on the scheduled dates.
2. New requirement: All small debris, grass, leaves, etc. must be in bags.
3. Do not place any material in the street or on the sidewalks.
4. Place all material within 6 feet of the edge of the pavement.
5. Do not remove entire trees from your private property and place them for the city pickup.
6. If you hire a contractor to remove your trees, have your contractor haul the material to the sewage treatment plant and place the material in the proper location.
7. Excessive amounts of material will not be removed by the city.
A separate notice for leaf pickup service in the fall will be published later.
If you have any questions about the landscape waste pickup, contact City Hall at 792-3222.
---

Mount Pulaski 3rd-quarter honor roll
MOUNT PULASKI -- Mount Pulaski High School has released its honor roll for the third quarter.
Seniors:
"Straight A" honor roll -- Mark Foley, Allison Haley
High honors (3.80 and above) -- Katheryn Bobell, Alexandra Conley, Marlea Elias, Samantha Fanning, Hillary Fielden, Andrew Houser, Audrey Maske, Carly Powell, Kyle Przykopanski, Matthew Southerlan, Grace Tierney
Honors (3.50–3.79) -- Kelsey Griesheim, Jacob Litterly, Taylor Lowe, Jonathan Oberreiter, Christopher Wernsing, Justin White
Honorable mention (3.00-3.49) -- Alexander Deppe, Jeremy Henrichsmeyer, Tyler Hubal, Madison Leinweber, Kyle Lock,Taylor Schahl
Juniors:
"Straight A" honor roll: Rachel Allen, Andrea Dickerson, Sylvia Klumpp, Alexa Meister, Trenton Trump
High honors (3.80 and above) -- Jessica Awe, Josef Bosnyak, Tanner Clementz, Rachel Durchholz, Timothy Koehler, Zackary Ladson, Elyse McCormick, Hannah Skaggs
Honors (3.50-3.79) -- Taylor Anderson, Janson Cooper, Shanyn Gibbs, Allison Hickey, Darian Lovin, Jacob Stoll
Honorable mention (3.00-3.49) -- Bowen Casper, Scott Clampet, Auston Constant, Jacob Hahn, Cole Huff, Emily Johnston, Shawn Knauer, Gage Loeffelholz, Bryan McCawley, Jessica Raineri
Sophomores:
"Straight A" honor roll: Madison Haley, Chun Yin Michael Ho, Cady Lowery, Jordan Luczaj, Jordan Taylor
High honors (3.80 and above) -- Derek Baunach, Brady Thomas
Honors (3.50–3.79) -- Marcus Hoock, Aaron Stewart, Emma Stewart
Honorable mention (3.00–3.49) -- Jana Adams, Alexis Bowles, Madison Chandler, Samuel Fielden, Marissa Mattingly, Chelsea Siembida, Maxwell Van Rheeden
Freshmen:
"Straight A" honor roll -- Julia Beccue, Alecsandria Hayes, Margaret Olson, Haley Vaughan
High honors (3.80 and above) -- Elizabeth Allen, Angel Griffieth, Andrew Moody, Samantha Morris, Nicholas Raineri
Honors (3.50-3.79) -- Matthew Amidon, Blake Collier, Claudia Knight, Hannah Riedle, Shelby Young
Honorable mention (3.00-3.49) -- Justin Dunakey, Aaron Durchholz, Caroline Huff, Jacqueline Inselmann, Garrett Johnston, Michael Lowery, Hayle McCawley, Whitney Nichols, Angel Reno, Ashton Wakeman
---

New, big garage sale by HSLC
Now seeking donations from the community
As you clean out your closets, attics and garage this spring, donate your clean, gently used items to the new, big garage sale sponsored by the Humane Society of Logan County at the Logan County Fairgrounds on Saturday, May 12.
Donations will be taken at the south entrance to the Logan County Fairgrounds on specified days in March, April and May.
Following are donation times and dates in the next month:
March 28, noon-3 p.m.

April 4, noon-3 p.m.

April 11, noon-3 p.m.

April 14, 9 a.m.-3 p.m.

April 18, noon-3 p.m.

April 25, noon-3 p.m.

April 28, 9 a.m.-3 p.m.
If you cannot come to the fairgrounds, someone from the organization will come to you. Please call Adrienne, 732-1979; Marilyn, 732-7853; or Sue, 732-9422.
If you would like to volunteer for this new event, please call one of the above numbers.
Plan to attend for an exciting day of great bargains, food, music, stuff just for kids and more.
---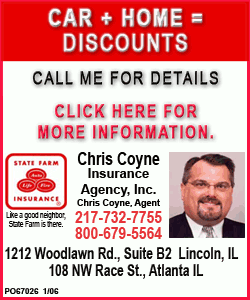 ---

HSLC spring and summer dog washes
Again this year, the Humane Society of Logan County will host several dog washes. Each day will begin at 10 a.m. and wrap up at 1 p.m.
Below are the dates and locations for April through September:
---

Lincoln District 27 registration for 2012-13
Lincoln Elementary School District 27 is now registering students for the 2012-13 school year.
If you have any children in kindergarten through eighth grade who are entering the district for the first time, visit www.lincoln27.com for further information, or call the administration office at 732-2522 for a registration packet.
The first day of school for students will be Aug. 17.
---

West Lincoln-Broadwell honor roll
West Lincoln-Broadwell's honor roll for the third nine weeks is as follows:
Fifth grade:
High honors -- Emma Konczyk, Hunter McKinney, Morgan Mollohan
Honors -- Paige Langley, Kayla Maly, Zeke Kleinman
Sixth grade:
High honors -- Tabitha Cooley, Jack Eimer, Kaelyn Froebe, Bryan Hay, Autumn Hoffert, Carter McCraith, Amber Oliver, Emerie Wieber
Honors -- Kylee Alexander, Abbie Crowell, Haley Hicks, Blake Jones, Jacob McCray, Smruti Patel, Will Tiffany, Ali Wilson
Seventh grade:
High honors -- Megan Joseph, Grace Konczyk, Jacob Konczyk, Brianna Lanning, Isabelle Stiefvater
Honors: Morgan Bogdanic, Preston Ebelherr, Zac Montcalm
Eighth grade:
High honors -- Kate Benner, Kaylyn Hoffert, Adrienne Klockenga
Honors -- Jeris Bender, David Biggs, Brycen Hicks, Emily Martinez, Garrett Schreiner, Brook Soebbing, Chase Turner
---

Oasis offers free tax assistance program
The Oasis Senior Center offers free tax assistance to seniors during the 2012 filing season, through April 13. The center will offer electronic filing, which improves accuracy and ensures each return is accepted by the IRS in a timely manner. Tax volunteers are trained in the "Tax Wise" software but are not trained tax professionals. If your form is complicated or outside the established guidelines, please seek the assistance of a tax professional.
The senior center is obligated to stay within the guidelines for a Volunteer Income Tax Assistance Center. The guidelines prohibit the center from completing tax forms that involve the sale of property, business earnings, depreciation, stock sales, farm income, and other income or deductions that are not typical in nature.
For an appointment, call 732-6132.
Hours are:
---

Area chapter of engineering society offers $1,000 scholarship
The Central Illinois Chapter of the Illinois Society of Professional Engineers is sponsoring a $1,000 scholarship to a qualified central Illinois high school senior.
To be eligible, a candidate should be accepted into an engineering college or to a junior college with an equivalent academic schedule for the first two years. The candidate must reside within the counties of Macon, Moultrie, Piatt, Shelby or the southern parts of DeWitt and Logan. The southern parts of DeWitt and Logan counties are defined as including the cities of Clinton and Lincoln and those parts south of Route 10, east of Interstate 55 and south of County Highway 569 west of I-55.
There is no formal application form. Interested high school seniors should submit a brief resume including interests, organized activities, officer positions and awards; school transcript with national testing results; and a one-page composition describing their interest in engineering. Arrangements will be made for a personal interview with each applicant during the latter part of April.
Interested students should submit their applications prior to April 8 to:
Willard T. Sudduth, P.E.
2360 S. Taylor Road
Decatur, IL 62521
---

Mount Pulaski Rotary Club scholarship announcement
The Mount Pulaski Rotary Club is offering Mount Pulaski High School seniors the opportunity to apply for scholarships through a Rotary Club program again this year. Applications for the scholarships may be obtained from the high school guidance counselor's office.
---

Mind-reading fun for the public with the Lincoln Masons

The Lincoln Masons are looking forward to an excited room full of happy thoughts at Masonic Lodge 210 the afternoon of April 14, when they host a 1 p.m. lunch event for the public, featuring psychic entertainer Stefan Alexxis with a family-friendly "Comedy & Cool Stuff Mindreading Show."

According to a media release, "under Alexxis' guidance, the audience becomes the star of the show, as average people discoverer they can apparently make amazing, and often hilarious, intuitive connections with him and with each other."

The performance description continues:

"Starting with lighthearted, yet amazing experiments in communications between two minds, the impossibilities grow as Alexxis and his audience see if they can push past the limits of time itself and even mentally influence the physical world.

"Is this ESP? Is it psychology? All Alexxis will say is what his previous audiences already know: It's a whole lot of pure fun, with plenty of laughs along the way."

The performance benefits Masonic Lodge 210.

Stefan Alexxis' varied background seems tailor-made to create a psychic entertainer, or mentalist: high school science fair experiments in ESP-related topics; a degree in religious studies, specializing in world religions and ethics; years as a top-rated radio personality in Idaho and Georgia; work as an award-winning writer for organizations ranging from regional nonprofits to Fortune 500 companies -- all these come together in mentalism.

Alexxis makes no claim to be any more "psychic" than the next person, nor is he trying to prove anything paranormal, the media release says.

"I believe in the ability of the human mind to communicate in subtle and wonderful ways," Alexxis says. "My job as an entertainer is to make sure my audiences have fun with these natural, intuitive abilities. And maybe some people will walk away with more than the memory of (a) laughter-filled night. Maybe they'll have more confidence in what they can accomplish when they put their minds to it."

Online: http://alexxis.info/
---