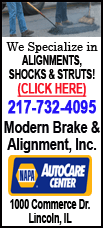 Today, central Illinois agriculture with its rich soils has narrowed its focus more to crop production. According to the 2007 Census of Agriculture, there are 320,356 acres in farmland in Logan County, with 92 percent reported as harvested cropland.
The American farmer is first a business person. In an industry with its product at the indiscriminate mercy of the elements; with disease and pests to combat; plus keeping abreast of changing laws, technology, equipment, finances, expanding markets and the day-to-day of general operations -- today's farmer must be the most savvy of businessmen.

For most farmers, their motivation goes beyond profits, with the ultimate aim to provide products the world needs, and the world's needs are changing.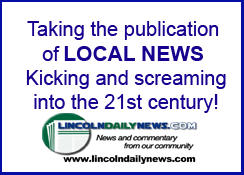 Last year it was announced that by the year 2050 the world population is expected to reach 9.1 billion, and with that increase, food needs are expected to double. Additionally, continuing research and development are making it possible for agricultural products to be used in the creation of biofuels, which aid in reducing the use of limited fossil fuels, resulting in less pollution and dependence on foreign oil.

"To produce future food, fiber and biofuels and leave room for wildlife, we must increase production on the land we are now using. High-yield agriculture benefits the environment by producing maximum crop yields from a small amount of land." -- National Agricultural Aviation Association

Chuck Holzwarth has dedicated his agricultural career toward helping farmers reach those higher yields.
Born and raised on a farm, Holzwarth says, "I grew up with a love for agriculture."

In the late 1980s Holzwarth began flying at a rural airport where there was an aerial application operation. "Once I started flying with them, I was hooked," he says.

Chuck Holzwarth's Flying Service began in 1993, providing agricultural spraying, seeding and fertilizing. He expanded his business to the Logan County Airport in 1995 and currently conducts operations in Lincoln, Kilbourne and Virden.

The benefits of aerial application include:
No soil compaction.

No equipment damage to mature foliage.

Timely treatment or sowing when fields are too wet for tractors.

Efficiency -- three times faster than any other application processes.

More effective when timing is critical to treat pests or disease.

Does not contribute to topsoil runoff, reducing soil erosion by as much as 90 percent.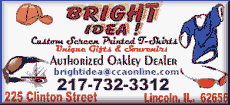 Holzwarth began his operation in Lincoln in a large, open-ended Quonset at the airport's north end. The business grew rapidly, and with technology advancements, it has undergone several major expansions.

In 2000, Holzwarth built his own large hangar. It housed his aircraft, state-of-the-art chemical loading systems, cleaning systems, storage, office and a small rest area.

For central Illinois farmers, the year 2006 was a busy one combating pests. Holzwarth brought in additional aerial applicators, and there were as many as 13 planes a day working over Logan County's crops much of the season.

The following year, he decided to build a separate office building that would allow more orders to be processed. It also included a kitchen and conference area.

The two buildings and equipment represented an investment of more than $400,000, and that did not include the planes.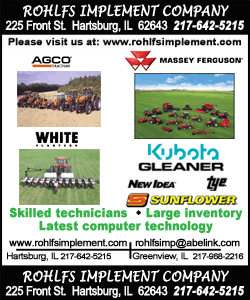 In 2006, the business made crop applications on over 100,000 acres. Since 2007, Holzwarth has been providing service on over half a million acres each year.


Corn and soybeans represent the greatest portion of the crop work. But, the business also provides wheat, alfalfa and green bean crop services.


Holzwarth's application season typically begins in April, spraying winter crops, and ends in late September, seeding winter cover crops. But he is kept busy year-round with planning, training, renewing certifications and ordering; and his planes get additional maintenance, upgrades and inspections during the offseason.


The busy season ramps up about the end of June, when pollination begins. In July he has five to six planes running all day, with one of his Air Tractors either taking off or landing every five minutes from sunup to sundown.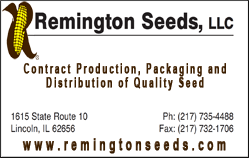 The turbine-powered Air Tractors he uses are fully loaded for the most accurate application and are well-known for reliability.

Onboard recording equipment combines global positioning and geographic information systems that work in conjunction with flow controls, real-time meteorological systems (for drift control) and precisely calibrated spray equipment to provide accuracy in applying the correct amount of product.

The guidance system provides application precision. If chemical runs out in midfield, that place is automatically marked by the in-plane mapping system, and when the pilot returns, he knows exactly where to begin again, Holzwarth said.

In the office, an "as applied" map is generated for the customer, showing the accuracy of treatment to their fields.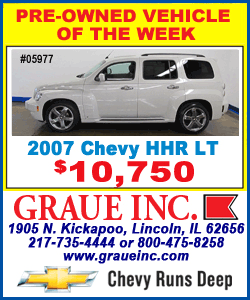 Holzwarth runs the business with his wife, Linda. The business also relies on several other pilots, office assistants and hangar crew. To meet demands and keep things running smoothly during high season, additional pilots and help may be called in.

The Illinois farmer is always looking for best practices for his or her chosen production. Aerial application not only offers benefits when crop products are applied efficiently and effectively, but the environment is also benefited by producing maximum crop yields from fewer acres.

[Jan Youngquist]
This is one of the articles you will find in our special Spring 2012 Farm Outlook Magazine.

The magazine is online now. Click here to view all the articles, which include:

Introduction by John Fulton
Weather: The biggest variable
2011 crop yields
Productivity: Corn-on-corn
Alternative income
Protecting your income with insurance
The value of land conservation
Property taxes on farmland
Land value in Logan County
Increasing yield with aerial application
The importance of Ag Scholarships