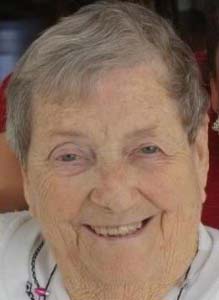 Lillian Drake
[April 13, 2012] LINCOLN -- Lillian Cecilia Drake, 85, of Lincoln, died Wednesday, April 11, 2012, at 8:30 a.m. at the Christian Nursing Home.
(Below is a copy of the obituary from the funeral home.)
___
LINCOLN -- Lillian Cecelia Drake, 85, died on April 11, 2012 at the Christian Nursing Home in Lincoln IL at 8:30 A.M.

Lillian was born on July 24, 1926 in Detroit MI, daughter of Wilson Theodore and Della Edna (Blanton) Saylor. She married Leslie Watson Drake on May 21, 1942. He preceded her in death on February 28, 2005.

Lillian is survived by two daughters, Lee I. (Drake) Schall (Robert Schall) of Broadwell IL and Robin E. Drake (Mark A. Bibler) of Fishers IN; four sons, William T. (Sherrie) Drake of Parker City IN, Micheal E. (Connie) Drake and Larry A. (Patti) Drake, both of Elkhart IL, and Kerry W. (Melanie) Drake of DeMotte IN; 21 grandchildren and 19 great-grandchildren; six nieces and nephews; and dear friend and caregiver Ann Miller of Lincoln IL.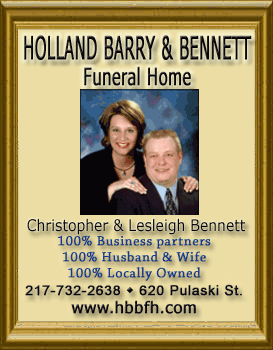 She was preceded in death by her parents; two sisters, Geneva (Saylor) Haworth and Mabel (Saylor) Machleit; her brother, Orla O. Saylor; two children, Carol L. (Drake) Miles and Daniel L. Drake; and one great-grandson, Warner Josiah Drake.

Cremation rites have been accorded and burial will be at a later date. Holland Barry and Bennett Funeral Home in Lincoln IL is handling arrangements.

Visitation will be held from 4:00-6:00 P.M. Friday, April 20, 2012 at Holland Barry and Bennett Funeral Home.

Lil was a member of Elkhart Christian Church in Elkhart IL. Her memorial service will be held at 10:30 A.M. Saturday, April 21, 2012 at Elkhart Christian. Visitation will be at the church from 9:30-10:30 A.M. prior to the service.