Jerry Shockey
[April 23, 2012] LINCOLN -- Jerry Bock Shockey, 88, of Lincoln, died Saturday, April 21, 2012, at 9:12 a.m. at the Christian Nursing Home.
(Below is a copy of the obituary from the funeral home.)
___
Lincoln: Jerry Bock Shockey, 88, of Lincoln died at 9:12 A.M. April 21, 2012 at the Christian Nursing Home in Lincoln.
Mr. Shockey was born March 10, 1924 to Darrell and Ella Fulscher Shockey in Elkhart, IL. He married Anna Louise Buckstegge on November 24, 1948 at her parentís home in Lincoln. She survives of Lincoln.
Also surviving are two daughters, Gail (George) Petro of Lincoln, Melissa Shockey of Springfield, two sons, Roger Shockey of Peoria, Jerry Bock (Heather) Shockey of Covington, KY, and three grandchildren, Ben (Sarah) Petro of Chicago, Drew VonWaldner of Springfield and Taylor Shockey of Covington, KY. He was the last of his immediate family.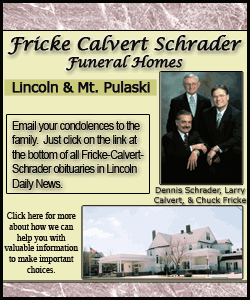 Jerry was the owner and operator of Harris-Hodnett Insurance Agency in Lincoln for many years. He was a member of Trinity Episcopal Church, The Lincoln Elkís Club, Lincoln Lodge # 210, Ansar Shrine, Logan County Shrine Club, Springfield Consistory, American Legion Post # 263, attended Lincoln College and was a Marine Corps veteran of WWII in the Pacific Theater.
Services for Mr. Shockey will be 11:00 A.M. Saturday April 28, 2012 at Trinity Episcopal Church in Lincoln with Father Mark Evans officiating. Visitation will be one hour prior to services at the church. Memorials may be made to Trinity Episcopal Church or to the Donorís Choice. Fricke-Calvert-Schrader Funeral Home, Lincoln is handling arrangements.