Joan Hinds
[April 24, 2012] ELKHART -- Joan Hinds, 76, of Elkhart, died at home.
(Below is a copy of the obituary from the funeral home.)
___
Joan (Lee) Hinds, 76, of Elkhart, IL passed away at home. She was born June 3, 1935 in Lincoln, IL to Patrick Mathew and Theresa (Laffy) Lee. She married Donnie Hinds on November 26, 1955 in Elkhart, IL and he preceded her in death on September 24, 1996.
She is survived by her children, Kevin (Debbie) Hinds of Girard, IL; Brian (Christie) Hinds, Mark (Teri Hanner) Hinds and Michelle Hinds, all of Elkhart, IL; Bridgette (Phil) Crites of Owaneco, IL and Craig (Julie) Hinds of Chestnut, IL; 9 grandchildren and 6 great-granddaughters. She is also survived by several nieces, nephews and cousins.
She was preceded in death by her parents, husband and siblings.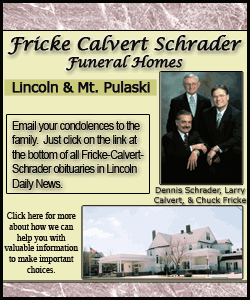 Visitation will be Friday evening at Fricke-Calvert-Schrader Funeral Home in Mt. Pulaski, IL from 4-8 p.m. with a Rosary Service at 3:00 p.m.
Funeral Services will be held at 10:00 a.m. Saturday at St. Thomas Aquinas Catholic Church in Mt. Pulaski, IL. Burial will be in Steenbergen Cemetery, Mt. Pulaski, IL.
Memorials may be made to: Ronald McDonald House, 610 N. 7th Street, Springfield, IL 62702 or Lincoln Special Olympics, Attn: Ryan Curry, P.O. Box 897, Lincoln, IL 62656.