County readying for festival; seeks to stop filing fee losses

Send a link to a friend
[August 21, 2012] There wasn't much for discussion when the full Logan County Board met on Thursday for board of whole. However, there were still a few pieces of information that required a bit of elaboration.
Balloon fest activities
Kevin Bateman, who has been working on the "Up in Smoke" portion of the Lincoln Art & Balloon Festival, informed the board that the festival is still in dire need of volunteers. He is specifically seeking volunteers for the barbecue event taking place downtown.
While on the topic of the barbecue contest, Bateman said there are more teams registered so far this year than last year.
"Most of the teams came in last week," said Bateman. "We'll have to max out at 50 teams just because of space."
Bateman said that anyone interested in volunteering for the festival can contact him or Andi Hake at the chamber of commerce for more information. See contact information below.
The downtown streets will be blocked off starting Thursday at 4 p.m. Broadway, McLean and Pulaski streets will be closed to traffic.
MERS
A motion was made to request that the state's attorney investigate litigation against Mortgage Electronic Registration Systems Inc. MERS has provided a way for banks to provide mortgages without paying the appropriate fees to the county clerk.
Logan County has potentially lost around $237,000 due to MERS. Other counties have begun coordinating a class action suit in response, and Logan County may look into joining that suit.
The matter would be voted at Tuesday's reconvened session.
(See information presented to the Logan County Board about MERS.)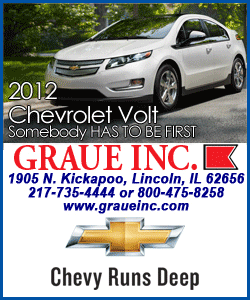 Communications
Dan Fulscher reported that the last exercises for a new telecommunication plan for county emergency services have been completed. In January, radio service will be tested with the new plan in place.
Fulscher also reported that while Thursday did bring some rain, the rain came with a consequence. Communication systems in New Holland and Atlanta were partially interrupted due to storms. Emergency services were still accessible. Repairs are expected to be completed next week.
Help out with the art and balloon festival
What is there to help with?
http://www.lincolndailynews.com/images/ads/
current/abf_volunteeroptions.htm
Volunteer form:
http://www.lincolndailynews.com/images/ads/
current/abf_volunteerform.htm
To volunteer to assist with the barbecue, contact Kevin Bateman, 217-671-3100.
Up in Smoke on the Square:
http://www.lincolndailynews.com/images/ads/
current/Schedule%20of%20Events%20BBQ.pdf
[By DEREK HURLEY]