Richard 'Dick' Eimer
[August 25, 2012] LINCOLN -- Richard F. "Dick" Eimer, 95, died Friday, Aug. 24, 2012, at 9:25 p.m. at Abraham Lincoln Memorial Hospital.
(Below is a copy of the obituary from the funeral home.)
___
Lincoln- Richard F. "Dick" Eimer, 95, died at 9:25 P.M. on August 24, 2012 at Abraham Lincoln Memorial Hospital.
Richard was born on December 10, 1916 in Lincoln, IL; son of Fred and Anna Feldman Eimer. He married Halcyone Anderson on October 24, 1943 in Lincoln, IL; she preceded him in death in 2001. Richard was an agent for Prudential Insurance Company for 30 years, was a devoted member of The Holy Family Catholic Church, was citizen of the month in April 1986, was on the Citizen Utility Board, trustee of St Mary's Church, member and president of Carroll Catholic School Board for 10 years, member and served as chairman of Logan County Life Underwriters, was on the board of St Clara's Manor, and volunteer for the American Cancer Society, served as Chairman for 3 years, was driver and coordinator of drivers and then took patients for 18 years for treatment to centers in central IL.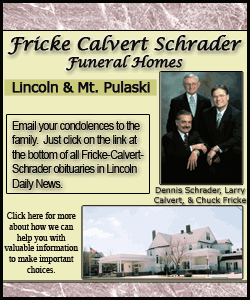 He is survived by his children: Dixie (Pete) Ross of Lincoln; David (RoseAnn) Eimer of Belaire, MD, Dana (Robert) Gosack of Pekin, IL, Denise (John) Williams of Elkhart, IL, Dan Eimer of East Peoria, IL, Dennis (Marian) Eimer of Lincoln. One brother: Tom (Marge) Eimer of Lincoln. One sister: Betty (Kenneth) Kinney of Lincoln. 12 grandchildren, 10 great-grandchildren.
He was preceded in death by his parents, wife, brother Robert, and sister Dorothy Warnisher.
Services for Richard will be 11:00 A.M. Tuesday August 28, 2012 at Holy Family Catholic Church in Lincoln with Father Thomas Taylor officiating. Visitation will be from 4-6 P.M. Monday August 27, 2012 at Fricke Calvert Schrader Funeral Home in Lincoln with a prayer service prior to visitation at 3 P.M. Burial will be at Holy Cross Cemetery. Memorials may be made to Carroll Catholic School or Hospice of Central Illinois out of Springfield Memorial Hospital.