Under the direction of Professor Kenneth Kendall, lead faculty member of the theater program, assisted by Professor Martin Holden, assistant professor of theater and technical director of the Johnston Center, the second year of Theatrepalooza is scheduled for Sept. 7-8.

Theatrepalooza is a 24-hour theater extravaganza that is open to all students, teachers and members of the Lincoln community who have ever wanted to participate in live stage productions.

Twenty-four hours is just what the time implies. The event development starts at 7 p.m. Friday and goes nonstop through the night until 7 p.m. on Saturday.

What happens during the 24 hours?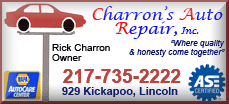 Beginning at 7 p.m. Friday, anyone who fancies themselves a playwright will gather at the Johnston Center on the Lincoln College campus and begin crafting a 10-minute play.
At 7 a.m. Saturday, the Palooza crew who choose to be technicals -- theater-speak for stage personnel who build sets for the plays, manage lighting, costume the actors and other technical details needed to stage a presentation -- will meet.
Actors and directors will meet at the same time to cast the plays and begin rehearsals.
Theatrepalooza then comes together at 7:30 p.m. Saturday in the Johnston Center for the presentation of eight to 10 of the plays that have been selected by a team of theater professionals.
The period between 7 p.m. and 7:30 p.m. Saturday will allow time for the actors to get into costume.
Professors Kendall and Holden together with Arwen Mitchell, a professional playwright from Springfield, will choose the plays to be performed from those submitted.
The performance of the plays will take approximately two hours. According to Holden, the inaugural event in 2011 was a terrific time.
This is a chance for anyone who has an interest in theater to be part of this special event. A person can choose to participate in one aspect of the show or as many as they can accommodate.
A playwright can help the technicals and act, if that is their desire. And Holden has indicated that if a person needs some sleep Friday night or early Saturday morning during the marathon playwriting, that is just fine. There will be a group meeting on Sept. 4 at 4 p.m. in the Hostick Theatre in the Johnston Center for everyone who wants to participate in the company of Theatrepalooza to work out the details of this unique 24 hours.

If you have any questions, the two professors are available to answer them. Holden's phone number at Lincoln College is 217-732-3155, ext. 276, and Kendalls number is 217-732-3155, ext. 283.
Come join the company and share in the electric atmosphere of live theater.
[By CURT FOX]