Tourism announces Fall Farm Day: Sept. 9

Send a link to a friend
[August 29, 2012] Fall Farm Day, which will take place Sept. 9, will feature an award-winning Logan County agritourism site, Gail's Pumpkin Patch, along with several other Logan County ag favorites: J.H. Hawes Grain Elevator Museum in Atlanta, PrairiErth Farm in rural Atlanta and Irwin Dairy, rural Beason. Gail's, at 1709 2000th Avenue, will provide an educational opportunity to visit a working farm. Irwin's Dairy, 1809 2150th Ave., will showcase its Holstein dairy farm.
The self-guided tour will be from 1 to 5 p.m. Brochures for the tour are available at the Abraham Lincoln Tourism Bureau, 1555 Fifth St., from 9 a.m. to 5 p.m. weekdays, as well as on the bureau's website, www.abe66.com. The website will also feature a tour map. In addition, brochures will be available during the tour at each stop.

Logan County historian Paul Gleason will give talks about the 150th anniversary of agriculture. This includes the establishment of the Department of Agriculture, the Morrill-Land Act and the Homestead Act -- all signed while Abraham Lincoln was in office. Gleason's presentations will be at Gail's Pumpkin Patch at 1:30 and 3 p.m.

Gleason, who completed 37 years as a junior high school teacher, holds a master's degree in history from Illinois State University. He has also completed extensive course work toward his Ph.D. Currently he is the chairman of the tour's sponsoring organization, the Abraham Lincoln Tourism Bureau of Logan County.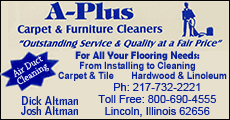 Judy Barr Topinka, comptroller of the state of Illinois, recently saluted Gail's Pumpkin Patch for its contribution to Illinois ag-related tourism. During "Agri-Tourism Day" at the Illinois State Fair in Springfield, Topinka presented owners Gail and David Sasse with a proclamation celebrating their achievements and continuing dedication.
"It is incredible to have Gail's Pumpkin Patch continue to support agriculture through events year after year," Topinka said. "Gail's Pumpkin Patch educates the public and promotes tourism for our state, and I thank the many people who work so hard to make it happen."
This is the seventh season for Gail's Pumpkin Patch, and it "just keeps growing each year," according to the owners. Their mission is to operate as ambassadors for agriculture by providing an educational and fun farm experience for the entire family.
Located near the geographical center of Illinois, the pumpkin patch offers more than 50 varieties of pumpkins and gourds, squash, corn, and other fall items.
The patch offers both "u-pick" and "we pick" pumpkins. New this year is the Porcelain Doll pumpkin. Part of the proceeds from the sale of these pink pumpkins is being donated to the Pink Pumpkin Foundation in Denver, Colo., for cancer research.
Also new this year at Gail's are the "Pumpkin Play Barn," "Dress the Scarecrow," "Lasso the Bull" and "Make Your Own Straw Bale." Additional fun for the younger generation includes a train, a toddler maze, corn and soybean boxes, a "goat lookout," crafts, and games. Other special attractions for Fall Farm Day are pumpkin painting, face painting, a machinery display and a honey extraction demonstration with live bees.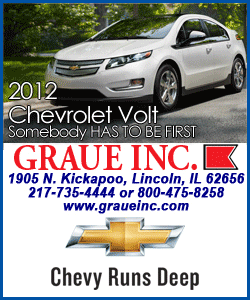 Gail's Pumpkin Patch sells a lot of Illinois products and local crafts, as well as apples, cider and doughnuts.
Gail and David's son Nate is the beekeeper for Sasse's Apiary, which produces many honey products. Their daughter makes the baked goods. Among this fall's favorite products will be a family cookbook that Abby is having published to sell at the pumpkin patch. It contains recipes using pumpkin, apples, honey and squash.
Gail's Pumpkin Patch will be open from Sept. 1 through Oct. 31 this year. More information is available at www.gailspumpkinpatch.com or by calling 217-447-3409.
Irwin Dairy, a family-owned Holstein farm, will also be included in the self-guided tour. Presentations regarding their farm and the dairy industry will be given at 1:30 and 3 p.m.
PrairiErth Farm, located in rural Atlanta, has been run by the Bishop family for close to 30 years. This 300-acre organic farm produces corn, soybeans, oats, alfalfa, many vegetables, fruits, flowers, beef, chicken and more. Additional information can be found online at www.prairierthfarm.com. PrairiErth will be open from 1 to 5 p.m. for tours.
The J.H. Hawes Grain Elevator Museum will also be open 1-5 p.m. The elevator is the only fully restored wooden grain elevator in Illinois listed on the National Register of Historic Places. The grain elevator was operated as a commercial enterprise from 1903 until 1976. The city of Atlanta purchased the structure in 1988. It was placed on the National Register in 1991 for its association with the area's commercial transportation and agricultural history.
More information is available at www.abe66.com or by calling 217-732-8687.
[Text from file received from Abraham Lincoln Tourism Bureau of Logan County]