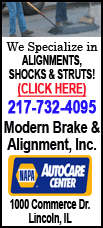 In what is expected to be a three-year campaign, this fall Lincoln College has launched a Civility Initiative to promote more civil behavior among the students. The campaign is being led by Tina Nutt, Lincoln College's dean of academic affairs, and Bridgett Thomas, the school's dean of student services.

The idea for beginning a Civility Initiative on the college's Lincoln campus came to Nutt as she was conducting research in pursuit of her doctorate degree from Olivet Nazarene University. Originally, Nutt was exploring faculty and student perceptions of uncivil classroom behavior. Examples of such behavior include sleeping in class, inappropriate cellphone use, walking in late or leaving a class early.

"The more I investigated the topic, the more I discovered classroom incivility was an increasing area of concern in higher education," says Nutt. "Student uncivil behaviors were negatively impacting the classroom learning environment, faculty morale, retention rates and even alumni relationships."

In response, major universities like the University of Missouri, Rutgers and University of California began addressing the issue through various campus civility initiatives.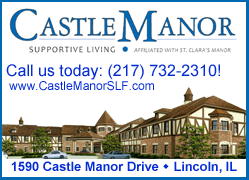 It was time, Nutt decided, to address the problem at Lincoln College. Not necessarily because the school was facing more issues than other colleges, but because Nutt and others believed a Civility Initiative was directly in line with the college's mission. Rather than focus solely on civility in the classroom, Nutt elected to partner with Thomas in an effort to promote civility both inside and outside of the classroom.
"Our Civility Initiative tag line is, 'What we permit -- we promote!' meaning if we don't address incivility head-on, we are in effect giving permission for students to behave uncivilly," Nutt said.
Research shows people often believe if they ignore an uncivil behavior, it will spontaneously disappear. In fact, the opposite is true. If more mild uncivil behavior is not addressed, the behavior will likely escalate to a more serious concern. Thomas believes that by addressing lesser incivilities, there is potential to curb more serious student conduct issues. Nutt says the research supports such a belief.
First, Nutt and Thomas needed to determine which student behaviors they wanted to target. They constructed a campuswide survey for faculty and staff members to identify which behaviors were found to be most uncivil and also most frequently occurring at Lincoln College.
From the survey, three behaviors emerged that Nutt and Thomas decided to focus on: general rudeness, use of profane language and inappropriate cellphone usage.
"General rudeness," Thomas said, "includes such behaviors as excessive noise, punctuality and lack of respect for faculty members, residence hall staff, maintenance workers, office staff and fellow students."
Civility Summit
In August, campus personnel attended several workshops hosted by Nutt and Thomas. The workshops focused on helping faculty, staff and students recognize and address the three mild uncivil behaviors identified in the campuswide survey. The summit included role-playing skits performed by current students and staff members, where steps for identifying and addressing uncivil behaviors were modeled.
One of the students who participated in the role-playing activity was Kennetta Thomas, a native of Normal and sophomore at Lincoln College. Although she says she was uncomfortable being rude to an adult even in a role-play setting, she said the summit was both fun and educational for her as a student.
"Those of us who participated benefited from the experience by becoming more aware of the impact of our behaviors in different settings," she said.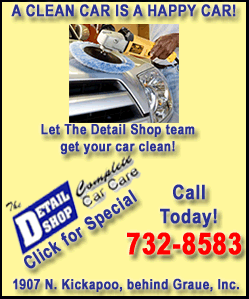 Aside from training faculty and staff about how to address uncivil behavior, the summit also encouraged employees to recognize and promote instances where students were especially respectful to others.
Reinforcing positive behaviors has been a critical element of the civility campaign, according to Bridgett Thomas, the student services dean.
"We have used coupons for pizza, Wal-Mart gift certificates and free popcorn at sporting events as rewards," she said. "The campus community continues to recognize students who have displayed positive behavior within the Lincoln community."
Student and faculty response
The initial student response to the civility campaign has been overwhelmingly positive, according to Nutt and Thomas.
Students are appreciative too.
Sophomore Sarah Edwards, a Lincoln Community High School graduate, says she has noticed a difference in the atmosphere on campus this year, compared with last year. She attributes that to the civility campaign.
"Last year, people wouldn't turn their phones off," said Edwards. "So a professor would be lecturing and you'd hear a phone go off and (that) just throws everything off. It makes it more difficult to learn when that happens. But this year has been a little easier without as many of those distractions."
Kennetta Thomas agreed, saying she has also seen improvements as a resident of campus.
Edwards says many of her professors addressed civility on the first day of class and made their behavior expectations clear. Faculty members also pledged to reciprocate the civil behaviors of their students by treating them with due respect.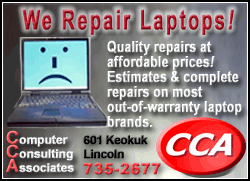 Joe Baker, associate professor of criminology, said: "The entire campus seems to have bought into the Civility Initiative, and it has made a tremendous difference in the classroom as well as other areas on campus. I am proud of our student body and the strides they have made toward creating a more positive campus climate."
"I was happy. It shows that the faculty care about their students, and they're trying to make it a better place to learn," said Edwards. "They're concerned about their students and the learning. Our faculty members have a personal connection with their students, where they really want everyone to understand the material without any distractions -- to be successful."
Both Edwards and Thomas said they were pleased to see the college be proactive this year in promoting civility and addressing issues that were hampering their experience.
"We are proud of the early success of the Civility Initiative," said Nutt, who believes the long-term success of the initiative will depend on the college remaining diligent and consistently working together to create the best possible environment for teaching and learning. "The Civility Initiative provides our students with a transformational learning opportunity, which will help them reach their full potential."
Founded in 1865 as Lincoln University, the college is the only institution of higher education named after President Abraham Lincoln during his lifetime. Today, Lincoln College operates two campuses in central Illinois region, united in the goal of helping students achieve a greater measure of happiness, personal fulfillment and economic success through education. More information on Lincoln College and its many academic programs is available at www.lincolncollege.edu.
[Text from file received from Lincoln College]