Abraham Lincoln and the dilemma of alcohol
Guy Fraker, author of 'Lincoln's Ladder to the Presidency,' to discuss Lincoln's views Thursday at presidential museum

Send a link to a friend
[December 01, 2012] SPRINGFIELD -- Abraham Lincoln didn't drink, but he sold alcohol as a store owner. He advocated temperance, but as a lawyer he represented clients on the other side of the issue.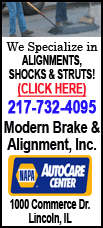 Alcohol presents a striking example of the neutrality Lincoln had to adopt to become a successful attorney, says Guy Fraker, author of "Lincoln's Ladder to the Presidency: The Eighth Judicial Circuit."

Fraker will address the issue in a book discussion and signing on Thursday at the Abraham Lincoln Presidential Library and Museum. Fraker will speak at 7 p.m. in the Union Theater at the museum. A book signing at 6:30 p.m. will precede the discussion

The events are free and open to the public, but reservations should be made by calling 217-558-8934.

"Lincoln's Ladder to the Presidency" examines the 23 years that Lincoln spent riding the 8th Judicial Circuit in central Illinois. He built not only a law practice but also vital political relationships with the circuit lawyers and their judge, David Davis. A team led by Davis secured the Republican nomination for Lincoln in May of 1860.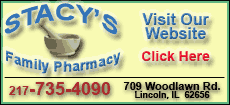 The book includes the personal side of Lincoln's relationships with his colleagues, clients and the communities of the circuit. It examines a cross section of his practice and the nature of his cases. It also analyzes his considerable networking ability as he built his law practice and political base. "Lincoln's Ladder to the Presidency" continues to look at Lincoln's circuit comrades through his presidency and assassination.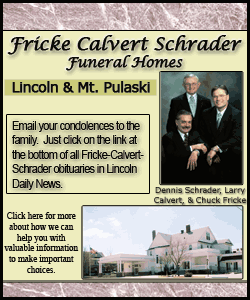 Lincoln biographer Ronald C. White Jr. said Fraker "has an eye for the revealing legal story and an ear for the interplay of Lincoln's legal and political ideas and language." And former Illinois Gov. Jim Edgar said the book "is great history, but it is also an excellent primer for aspiring politicians."
Fraker has practiced law in Bloomington since 1962. He was a consultant on "Abraham Lincoln: Prelude to the Presidency," an award-winning documentary produced by WILL-TV. He was also co-curator of "Prologue to the Presidency," a permanent exhibit at the David Davis Mansion, a site operated by the Illinois Historic Preservation Agency.
Visit www.presidentlincoln.org for more information about exhibits, events and programs at the Abraham Lincoln Presidential Library and Museum.
[Text from file received from the Illinois Historic Preservation Agency]