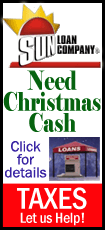 Deal or no deal, nothing is likely to become clear until far closer to the year-end deadline, when the lure of getting away for the holidays will sharpen the focus of negotiators.
"There's a stalemate. Let's not kid ourselves," House Speaker John Boehner, R-Ohio, said Friday, punctuating the end of a week of political theater by divided government. "Right now we're almost nowhere."
He spoke as Obama all but called Republicans heartless louts from a Charles Dickens story. Their failure to pass an extension of middle class tax cuts would amount to a Christmas "lump of coal" for millions, Obama said in Hatfield, Pa. "That's a Scrooge Christmas," added the recently-re-elected president, who claims a voters' mandate to extend existing tax cuts for all but upper incomes.
Boehner, too, claimed a mandate after voters renewed the House Republican majority on Nov. 6. But the speaker's political hand was weakened -- witness his postelection announcement that the GOP would put revenues on the bargaining table. His control seems to have eroded further in the weeks since, as a smattering of the GOP rank and file let it be known they could support the president's tax plan under the right circumstances.
"Rate increase, if the package includes significant entitlement reform that gets you to $4 to $6 trillion (in deficit savings) over 10 years, I would vote for that," a retiring Rep. Steve LaTourette, R-Ohio, told reporters on Friday.
Rep. Charles Bass made similar comments. "If it gets us past the fiscal cliff and the president is willing to consider meaningful savings in entitlements, it's a legitimate solution," said the New Hampshire lawmaker, who was defeated for re-election this fall.
Yet the speaker also made a little-noticed move this week to shore up his bargaining position.
He issued a statement noting that Senate Democrats are threatening to weaken the Republicans' ability to block legislation in their chamber in the new Congress that convenes in January.
"Any bill that reaches a Republican-led House based on Senate Democrats' heavy-handed power play would be dead on arrival," he warned.
In the talks to date, Democrats have declined to identify a single spending cut they are willing to support, while Republicans avoid specifics on revenue increases they would swallow.
Once each side moves beyond opening gambits, Republicans will have to decide whether they are willing to raise income tax rates on upper incomes, as Obama wants, or hold fast to closing loopholes as a means of producing increased tax revenue.
For their part, Democrats will decide how much savings to pull from benefit programs like Medicare, Medicaid and possibly Social Security without cutting guaranteed benefits, a line they vowed not to cross in earlier budget negotiations.
Obama's opening proposal, delivered to Boehner and other Republicans by Treasury Secretary Tim Geithner on Thursday, calls for $1.6 trillion in higher taxes over a decade, hundreds of billions of dollars in new spending, a possible extension of the temporary Social Security payroll tax cut and enhancing the president's power to raise the national debt limit.