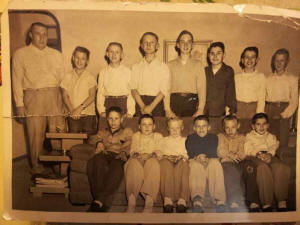 Standing: Coach Joe Schroth, Steve Morehead, Ronnie Boyd, Bob Pharis, Jim Ireland, Tom Zurkhammer, Jerry Gehlbach, Koert Bartman.
Front row: Tom Maurer, Bob Alexander, Marvin Bartman, John Kurtz, Vern Stanfield, Donald Gehlbach.
Photo and players' names provided by Mrs. Vivian Schroth, the coach's widow.
The picture, Bertoni believes, was taken in 1954 and is of the Chester-East Lincoln basketball team with coach Joe Schroth.
Schroth was Bertoni's coach from the fourth through sixth grades at Mount Pulaski. However, Bertoni related that a new principal was hired that year who felt Schroth was not well enough educated to be working in the public school system. Consequently, Schroth was dismissed from Mount Pulaski.
Upon his departure from there, he went to Chester-East Lincoln, which Bertoni recalls was a fairly new school at that time.
Below is a copy of information Bertoni has on coach Schroth. If anyone has anything to add to this, they are encouraged to email comments to ldneditor@lincolndailynews.com. LDN will then forward your information to Bertoni. Please be sure to give your name in your email.
(Copy of information provided)
Note: Joe Schroth excelled in basketball and baseball at Mount Pulaski High School in the 1930's, playing for now well-known and long-ago retired/deceased Illinois basketball coaches: George Dertinger and Dolph Stanley. Due to the death of his father in a farm-related accident, Joe took on responsibilities of both farming and finishing high school, while continuing his sports.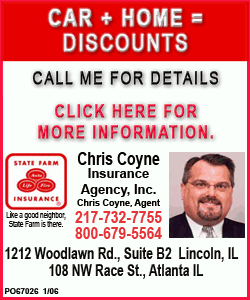 Following high school graduation, Joe continued farming and even operated a dairy farm during the war years with his new bride, Vivian Buckles. Joe maintained his interest in sports, playing independent basketball with Lincoln and Decatur teams. In 1945, he became the coach at Mount Pulaski Grade School, taking teams to the state, winning second in 1949. Joe moved over to coaching at Chester-East Lincoln in 1953.
Joe spent many of his latter years as a crop-hail adjuster and state field supervisor. Vivian, a graduate of Brown's Business College in Decatur, was employed by Custom Farm Fertilizer Services as a secretary / bookkeeper and later held a similar position for many years at Lincoln College.
Their only child, Dr. Richard Schroth, is an executive consultant, professional speaker and private advisor on technology and business for leading world-wide corporations. Currently, he is the U.S. State Department's 2008-2013 Senior Fulbright Scholar for Information Services. Last year, Richard was one of five recipients of the Mount Pulaski 175th Anniversary's Casimir Pulaski Awards for Most Distinguished Mount Pulaski High School Graduates. He resides with his wife and family in Maryland.
--Text submitted by Vivian Schroth and edited and updated by Phil Bertoni of the Mount Pulaski Township Historical Society.