[December 01, 2012]

Send a link to a friend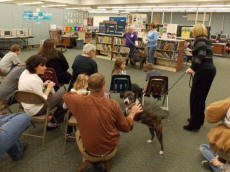 It was a tail-wagging good time at the New Holland-Middletown School on Tuesday evening and a great turnout for the school of 120 students in kindergarten through eighth grade. The theme of the evening, "Paws for Reading," brought both four-footed and two-footed out for a fun evening.
Ellen Burbage, president of the Humane Society of Logan County, and another volunteer brought several wonderful dogs and told a couple of adoption stories that the children enjoyed.

In addition to the chance for classmates, friends, parents and teachers to visit, there was also opportunity to pet the visiting dogs.

The evening was capped by a book fair, coloring, a musical chairs game and other fun activities in the classrooms, drawings for free books, and refreshments.
Pictures by Jan Youngquist