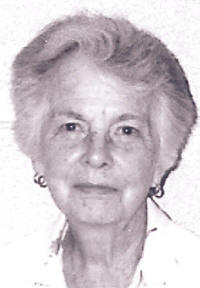 Maxine Schaefer
[December 03, 2012] CLINTON -- Maxine K. Schaefer, 96, of Clinton, formerly of Springfield, died Friday, Nov. 30, 2012, at 4:45 a.m. at Manor Court in Clinton.
(Below is a copy of the obituary from the funeral home.)
___
Maxine K. Schaefer, 96, of Clinton formerly of Springfield, died at 4:45 A.M. Friday November 30, 2012 at Manor Court in Clinton.
Maxine was born on April 8, 1916 to Vallas E. and Laura L. Morse Kuntzi in Chestnut, IL. She was a secretary for Marine Bank in Springfield for almost 50 year, was a member of Westminster Presbyterian Church of Springfield, a grand-daughter of Daughters of Union Veterans. She married Otto E. "Bud" Schaefer on April 5, 1946 in Springfield. He preceded her in death on May 16, 1978.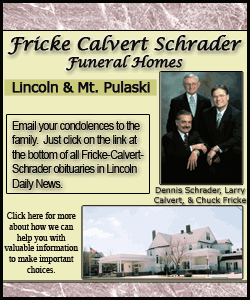 She is survived by her aunt Evelyn Kuntzi and lots of cousins including her first cousins: Barbara Joan Morse, Dallas Michael Morse, Betty Taylor Gaultney, William (Diane) Morse, Robert Morse, Edward Darnell Altman, Frank Altman, Eileen Altman Simons, Connie Kuntzi Loveless, Robert Bruce and Ronda Morse. She was preceded in death by her parents.
Graveside services will be Monday December 3, 2012 at Laenna Cemetery at 2:00 P.M. with David Taylor officiating. Memorials may be made to Kenney Heritage Association. Arrangements are being handled by Fricke Calvert Schrader Funeral Home in Mt. Pulaski.