[December 05, 2012]
Send a link to a friend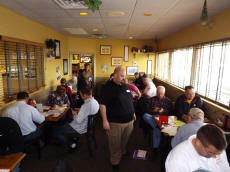 Tuesday at lunchtime the small dining room at the local Pizza Hut was full of, believe it or not -- jailbirds.
A few weeks ago several local personalities were contacted and asked to spend an hour in jail for the Muscular Dystrophy Association. In typical Logan County fashion, several saw the opportunity to help a good cause and thus wound up imprisoned at the Pizza Hut.
Of course when there is pizza involved, it just can't be a bad experience. Jailbirds were treated to a free lunch while they made calls to friends, family and business associates, asking them to "bail" them out of jail with a donation.
Pictures by Nila Smith and Jim Youngquist