Sunday, Dec. 9
Community Christmas Cantata, 2 p.m., in the sanctuary

Children's Choir Christmas program, 6 p.m., in the Family Life Center
Tuesday, Dec. 18
All-church caroling, 6:30 p.m. (meet at the church)
Monday, Dec. 24
Christmas Eve service, 6 p.m., in the sanctuary.
---

Community Action board meeting notice
The next regularly scheduled corporate board meeting of Community Action Partnership is scheduled for Dec. 13 at 7 p.m. at Community Action's corporate offices, 1800 Fifth St., Lincoln.
For transportation to the meeting, contact the resource specialist at your county office:
DeWitt County:
Anita Russell, 217-935-2455

Logan County:
Cyndi Campbell, 217-732-2159

Mason and Fulton County:
Anna Richardson, 309-543-6988

Piatt County:
Wendy Dotson, 217-762-2421
---

Santa Claus is coming to downtown Lincoln
Main Street Lincoln invites the public to enjoy historic downtown Lincoln throughout the holiday season. With the height of the holiday season fast approaching, downtown businesses are readying themselves for shoppers.
Throughout December, historic downtown Lincoln will be alive with the hustle and bustle of shopping and holiday cheer. Shoppers can enjoy the convenience and pride of shopping locally.
Santa will make appearances throughout downtown the next three Saturdays: Dec. 8, 15 and 22. Santa's schedule is as follows:
Dec. 8
10:30 a.m.-noon -- at Mission Mart

1-3 p.m. -- at Hallie's

4-6 p.m. -- at Sorrento's
Dec. 15
10 a.m.-noon -- at Owl's Roost

12:30-2:30 p.m. -- at Main Street Lincoln office

3-5 p.m. -- at Mary Todd's Hallmark
Dec. 22, Santa's final stop downtown
10 a.m.-noon -- at Lincoln post office

1-2:30 p.m. -- at Lincoln Fire Department

4-6 p.m. -- at Kroger's
Main Street Lincoln, a volunteer-driven organization, is pleased to participate in the holiday shopping season, promoting our eateries, antique stores, thrift stores, one-of-a-kind shops, nightlife and entertainment, along with plenty of services and businesses.
For more information on any of the holiday events, the Main Street Lincoln organization can be reached at 217-732-2929 or manager@mainstreetlincoln.com. In addition, information and business specials are available online at https://www.facebook.com/
MainStreetLincoln.
---

Habitat for Humanity monthly electronics collection Saturday
Habitat for Humanity of Logan County will have its monthly electronics recycling collection on Saturday from 9 a.m. to noon at the Habitat for Humanity warehouse, 915 Woodlawn Road.
The Logan County affiliate of Habitat has entered into a new partnership with Advanced Recycling, of Pontiac, to provide electronics recycling to the area. Televisions will continue to be accepted for recycling under this new partnership. The collection remains free of charge to the public.
The following items will be accepted:
Computer equipment, including laptop and desktop personal computers, hard drives, monitors, keyboards, printers, scanners, cords and cables, and CD-ROM, DVD, Zip and tape drives.

Entertainment equipment, including TVs, radios, stereo and game systems, game controls, VCR and DVD players, and cameras.

Small business equipment, including phones, copiers, typewriters, fax machines and calculators.

Small household and countertop appliances will also be accepted, as well as aluminum, copper, brass and stainless steel items.
Electronic equipment is not to be left at the site and is not collected outside the hours of the collection.
Information on the electronics recycling program is available by contacting the Habitat for Humanity office at 217-732-6412 or by visiting the website at http://www.habitatlogan.org/.
Electronic equipment is not to be left at the site and is not collected outside the hours of the collection.
Information on the electronics recycling program is available by contacting the Habitat for Humanity office at 217-732-6412 or by visiting the website at http://www.habitatlogan.org/.
---

Bosom Buddies host fundraiser at Russell Stover's

Bob Hashman, captain of the Relay for Life team Bosom Buddies, has announced that his team will host a fundraiser at the Russell Stover candy shop on Lincoln's west side on Dec. 15.

During that day the team will receive a percentage of the price of all products sold at the store. The event will run for the full day, but one day only.

The Bosom Buddies encourage everyone to come out on Dec. 15 and pick up a box of holiday candy or other treats to help raise money for Relay for Life.

Relay for Life is an annual event, held nationwide. The funds raised are given to the American Cancer Society to help meet the needs of those suffering from cancer and to support research for cures.
---

Chamber recognizes excellence in our community
The Lincoln/Logan County Chamber of Commerce invites the public to help spotlight excellence in Logan County by making nominations for the chamber's Pride & Progress Awards. Nominations will be accepted until Jan. 7 to celebrate the achievements of chamber members in the continued development and improvement of Logan County..
The Pride & Progress Awards are designed to recognize outstanding achievement and promote positive awareness. The awards celebrate and acknowledge excellence, innovation, initiative, community involvement and are a thank-you to those who go the extra mile to make Logan County a great place to live, work and play.
Awards will be presented during the chamber annual dinner on Jan. 26 at the American Legion. All nominations are due by Jan. 7.
Awards are being given for:
Business of the Year, given to a business that contributes to the community, shows innovation and actively participates in events and projects within the community.

New Business of the Year, given to a business that has opened in the last 12 months and brings something new to the community, complementing and contributing to the growth of Logan County.

Mike Abbott Volunteer of the Year, given to a person who is involved, committed and goes the extra mile, is dedicated and selfless for the betterment of the community.

Beautification Award, given to a business that enhances, improves and transforms their corner of the community into a more attractive place.

Excellence in Service, given to a business that demonstrates a commitment to the community, its customers and its employees, giving 100 percent always.
To be eligible to receive one of the above awards, businesses or individuals must be members of the Lincoln/Logan County Chamber of Commerce in good standing.
You can nominate yourself or another chamber business for any of the Pride & Progress Awards. Visit www.lincolnillinois.com for a link to make your online nominations and a complete chamber membership listing. The community is invited and encouraged to make nominations for these awards.
Pride & Progress winners from annual dinner this year were:
Business of the Year -- Graue Inc.

New Business of the Year -- Anytime Fitness.

Mike Abbott Volunteer of the Year -- Joe Fitzpatrick.

Beautification Award -- Lincoln Theater 4.

Excellence in Service Award -- NAPA Auto Parts.

Ambassador of the Year, Marcia Cook.
The chamber's annual dinner and the Pride & Progress Awards are part of the chamber's mission to advocate, support and unify local businesses of the prosperity of Logan County.
---

Atlanta Betterment Fund board introduces 'Rt. 66 Reinterpreted' Art Project
ATLANTA -- In celebration of Route 66 and all it stands for, Atlanta -- located on the Mother Road, midway between Chicago and St. Louis -- announces its first "Rt. 66 Reinterpreted" Art Project.
Modeled on Chicago's "Cows on Parade" exhibit, the Rt. 66 Reinterpreted project presents artists the opportunity to create their own take on one of the 20th century's most iconic and recognizable symbols: the U.S. Route 66 highway shield.
Participating artists will be provided a blank, 2-foot-by-2-foot wooden cutout of the Route 66 sign, painted white, which will then become their personal canvas. The only requirement in creating a reinterpreted shield is to incorporate the text "Illinois U.S. 66" somewhere on the face of the shield, in whatever size, shape or color the artist desires. Everything else about the design, style, background and color of the reinterpreted shield is left to each artist's imagination and creativity.
The project is open to anyone 16 years old and above. Up to 50 entries will be accepted in this year's project, as determined by the date applications are received. All 50 entries will be displayed outside along Route 66 in downtown Atlanta from May 1 to Aug. 31, 2013.
The board of directors of the Atlanta Betterment Fund will select 10 shields out of the 50 entries as finalists. Shields selected as finalists will be judged on originality of design, overall concept and quality of execution.
Voting will then take place May 1-Aug. 31 to select the top five shield designs as winners of the 2012 project. Anyone, anywhere may vote, either in person at selected Route 66 attractions in Atlanta or online via Atlanta's website at www.atlantaillinois.org. The top five vote-getters will be the winners of the year's Rt. 66 Reinterpreted project.
At the conclusion of the project, the five winning shields, along with the names of the artists who created them, will be displayed on a permanent basis in the Atlanta Route 66 Park. Entries selected as one of the top five winning designs will also be showcased at the International Mother Road Festival in Springfield Sept. 27-29, 2013.
Artists wishing to enter the Rt. 66 Reinterpreted Art Project must submit a completed application form, along with a $25 entry fee. Completed applications are due on or before Feb. 1. Applications received after Feb. 1 will not be accepted.
Completed Rt. 66 Reinterpreted shields should be carefully packaged and returned to: The Atlanta Betterment Fund, 114 SW Arch St., Atlanta, IL 61723. Shields should be submitted between March 1 and April 5, 2013. Shields received after April 5 will not be accepted.
The Atlanta Betterment Fund sponsors the Rt. 66 Reinterpreted Art Project.
All decisions regarding judging are final. Entries selected as finalists will be notified by April 30, 2013. Entries selected as one of the top five winning designs will be notified by Sept. 1, 2013.
Click on the "Route 66 Art Project" logo at www.atlantaillinois.org for more information, including project guidelines and an application form to enter the Rt. 66 Reinterpreted Art Project. Or contact:
William Thomas
Atlanta Betterment Fund
114 SW Arch St.
Atlanta, IL 61723
217-648-5077
---

St. John UCC December schedule of events
St. John United Church of Christ, 204 Seventh St.., has scheduled special Christmas music for the December services, including pre-service music each Sunday before 10:30 a.m. worship.
Dec. 9
Pre-service music -- Adult Chime Choir, directed by Darlene Begolka

10:30 a.m. -- Christmas cantata by Lincoln LAMS
Dec. 16
Pre-service music -- Handbell Choir, directed by David Helm

10:30 a.m. -- During the morning worship service, coats collected for Community Action will be presented to them.
Dec. 23
Pre-service music -- Laura Lee, organist

10:30 a.m. -- Worship with Communion

Sunday school program and puppet show, directed by Donna Kessinger

Bells and Children's Chimes
Dec. 24
10:30 p.m. -- Pre-service music by Handbell Choir, directed by David Helm

11 p.m. -- Worship with Christmas Carols, Communion and candlelight service

Anthem: "Were You There on That Christmas Night." Soloist Michael Schneider with Adult Chime Choir.

Solo: "Ave Maria," by Franz Schubert. Soloist Michael Schneider.
---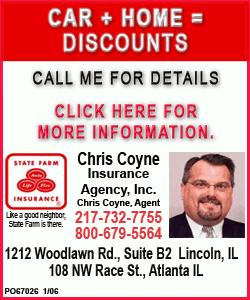 ---

Information Station's annual holiday open house Friday

The Abraham Lincoln Tourism Bureau of Logan County, the Lincoln & Logan County Development Partnership, and the Lincoln/Logan County Chamber of Commerce will welcome visitors to a holiday open house on Friday, Dec. 7. Snacks, holiday treats and punch will be available from noon to 4 p.m. at the Information Station, 1555 Fifth St.

The three offices together invite the public to this annual holiday celebration.

This is not only a time to spread some holiday cheer but also an opportunity to welcome the newest faces at the Information Station and beyond. Among those on hand to meet and greet guests will be newcomers Brian Bergen, executive director for the development partnership; Meghan Hough, membership director for the chamber of commerce; and Bill Hoagland, new executive director of Main Street Lincoln.
---

Did you know Joe Schroth? Local historian seeking your info

MOUNT PULASKI -- Mount Pulaski historian Phil Bertoni has come across a photo that he is hoping the local community will be interested in and also be willing to offer some more information on it.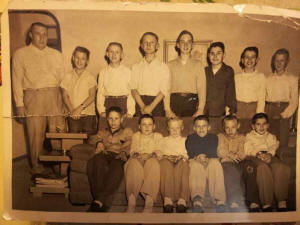 Standing: Coach Joe Schroth, Steve Morehead, Ronnie Boyd, Bob Pharis, Jim Ireland, Tom Zurkhammer, Jerry Gehlbach, Koert Bartman.
Front row: Tom Maurer, Bob Alexander, Marvin Bartman, John Kurtz, Vern Stanfield, Donald Gehlbach.
Photo and players' names provided by Mrs. Vivian Schroth, the coach's widow.

The picture, Bertoni believes, was taken in 1954 and is of the Chester-East Lincoln basketball team with coach Joe Schroth.

Schroth was Bertoni's coach when he was in fifth or sixth grade at Mount Pulaski. However, Bertoni related that a new principal was hired that year who felt Schroth was not well enough educated to be working in the public school system. Consequently, Schroth was dismissed from Mount Pulaski.

Upon his departure from there, he went to Chester-East Lincoln, which Bertoni recalls was a fairly new school at that time.

Below is a copy of information Bertoni has on coach Schroth. If anyone has anything to add to this, they are encouraged to email comments to ldneditor@lincolndailynews.com. LDN will then forward your information to Bertoni. Please be sure to give your name in your email.

(Copy of information provided)

Note: Joe Schroth excelled in basketball and baseball at Mount Pulaski High School in the 1930's, playing for now well-known and long-ago retired/deceased Illinois basketball coaches: George Dertinger and Dolph Stanley. Due to the death of his father in a farm-related accident, Joe took on responsibilities of both farming and finishing high school, while continuing his sports.

Following high school graduation, Joe continued farming and even operated a dairy farm during the war years with his new bride, Vivian Buckles. Joe maintained his interest in sports, playing independent basketball with Lincoln and Decatur teams. In 1945, he became the coach at Mount Pulaski Grade School, taking teams to the state, winning second in 1949. Joe moved over to coaching at Chester-East Lincoln in 1953.

Joe spent many of his latter years as a crop-hail adjuster and state field supervisor. Vivian, a graduate of Brown's Business College in Decatur, was employed by Custom Farm Fertilizer Services as a secretary / bookkeeper and later held a similar position for many years at Lincoln College.

Their only child, Dr. Richard Schroth, is an executive consultant, professional speaker and private advisor on technology and business for leading world-wide corporations. Currently, he is the U.S. State Department's 2008-2013 Senior Fulbright Scholar for Information Services. Last year, Richard was one of five recipients of the Mount Pulaski 175th Anniversary's Casimir Pulaski Awards for Most Distinguished Mount Pulaski High School Graduates. He resides with his wife and family in Maryland.

--Text submitted by Vivian Schroth and edited and updated by Phil Bertoni of the Mount Pulaski Township Historical Society.
---

Logan County Art Association presents "Predictions"

The newly formed Logan County Art Association is presenting its first show, "Predictions," at the Lincoln Art Institute, 112 S. McLean St., from Dec. 20 through Jan. 12.

There will be an opening reception from 6 to 9 p.m. Thursday, Dec. 20. Light refreshments will be served, everyone's welcome, and there is no admission charge

The show is based on the predictions by the Mayan calendar, Nostradamus and Edgar Cayce as well as other sources that suggest a catastrophic event will take place on Dec. 21.

For additional information, contact Georgie Borchardt by phone at 309-244-5708 or by email at logancountyaa@gmail.com.

___

Logan County Art Association Facebook page: https://www.facebook.com/
LoganArtAssociation

Lincoln Art Institute website:
http://lincolnartinstitute.wix.com/lincolnil#!
---

Santa at New Holland Firehouse Dec. 8

NEW HOLLAND -- Santa Claus will be at the New Holland Firehouse on Saturday, Dec. 8, from 2 to 4 p.m. There will be an opportunity to take pictures with Santa, and all children will receive a gift bag from Santa.

This event is sponsored by the New Holland Volunteer Firemen.
---

Holiday concert to feature Lincoln College Jazz Ensemble, Chamber Singers and Chorale

The annual holiday concert at Lincoln College will be presented in the Johnston Center for Performing Arts on the Lincoln campus on Friday, Dec. 7, and Saturday, Dec. 8. The concert will start at 7:30 both evenings.

Tickets will be available at the box office in the Johnston Center for $2.

The lineup this year will include a set by the 20-member Lincoln College Jazz Ensemble, led by Professor Scott Woger.

Next on the playbill will be performances by the Chamber Singers and the Lincoln College Chorale. Professor Cynthia Fox will direct the vocal groups.

Woger is very excited about this year's concert. The event will be the debut for members of a new Lincoln College degree program that will allow music students to earn a four-year bachelor's degree in jazz studies on the Lincoln campus. There are currently 24 aspiring jazz musicians enrolled.

"I have been working for the past seven months to set up this program," Woger said.

The four-year degree program allows Lincoln College to field a jazz big band for the first time, and the coming-out party for this group promises to raise the roof on the Johnston Center. The twin "Performance Tonight" flags in front of the Johnston Center will be snapping to a jazz beat.

As the jazz studies program unfolds, new events are being planned for 2013. A jazz concert featuring the LC Jazz Ensemble and area high school jazz bands, including one from Pekin High School, is scheduled for early 2013.

For more information on the holiday concert, contact the Lincoln College box office at 217-732-3155, ext. 280. Woger may be reached at 217-735-5050, ext. 281, and swoger@lincolncollege.edu.
---

Harvest of Talents Christmas cookie walk Dec. 8

There will be a Christmas cookie walk on Saturday, Dec. 8, from 8 a.m. until 11 a.m. in the family room of the Lincoln Christian Church Fellowship Center. Sponsored by the Harvest of Talents for World Hunger, the event will feature homemade traditional holiday and bar cookies. Cookies will be available for purchase by the pound or arranged on decorative plates.

Georgia Vinson, who chairs the cookie walk, recommends taking them home for weekend entertaining or popping them in your freezer to prepare yourself for Christmas parties and last-minute holiday guests.

Cookie shoppers are invited to enter the Fellowship Center through the north canopy parking lot door.

All proceeds will become a part of the 2013 Harvest of Talents for World Hunger and will be channeled through International Disaster Emergency Service to meet hunger needs worldwide.

Anyone having questions about the cookie walk may contact Georgia Vinson at 732-9069.
---

Zion Lutheran live Nativity scheduled for Dec. 14 & 15

The annual Zion Lutheran Church drive-thru live Nativity is scheduled for Friday and Saturday, Dec. 14 and 15, from 6 to 8 p.m. The outdoor scene, portrayed by church members and live animals, is set to favorite Christmas hymns and presented on the grounds of Zion Lutheran School, 1600 Woodlawn Road in Lincoln, across from Wal-Mart.

No admission is charged, but nonperishable food items will be collected for the Lincoln/Logan Food Pantry.
---

HSLC extends order deadline for cookie trays

Order now to get your fancy Christmas cookies. The Humane Society of Logan County is having their annual Christmas cookie tray sale, with cookie pickup on Saturday, Dec. 8, from 9 a.m. until 3 p.m. at Graue Inc., 1905 N. Kickapoo.

Trays of three dozen, four dozen or five dozen may be ordered. Prices start at $15 for three dozen assorted holiday cookies.

Order in advance by calling 217-732-1979 to be sure they are available. Orders will be taken until Friday, Dec. 7.

At the same time, there will be a big bake sale: cakes, pies, breads, fudge, candy and more.

Help yourself by letting HSLC bake, and help the shelter that provides for dogs and cats in Logan County.
---

Lincoln Jaycees Angel Tree project under way now

The annual Lincoln Jaycees Angel Tree is under way. The Angel Tree is a project to help the less fortunate children of Logan County. Tags with these children's names are placed on "Angel Trees" around the county. Employees or customers then pick a child from the names on the tree and buy them gifts. The Lincoln Jaycees distribute these gifts to the families in time for Christmas.

The public can find the Angel Trees at the following locations: Cracker Barrel, ALMH cafeteria, CEFCU, Blades Hair Salon, Illini Bank, Daisy's Hair and Nail Salon, and State Bank of Lincoln. Trees are also located at Eaton, Family Medical Center, Verallia, Sysco and International Paper for their employees.

Gifts need returned to businesses by Monday, Dec. 10.

The Lincoln Jaycees purchase gifts to go with any names not picked from the trees. If you would like to make a monetary donation, send it to: Lincoln Jaycees, P.O. Box 254, Lincoln, IL 62656.

Gift pickup will be at the Lincoln Jaycees Center, 325 S. Chicago St., on Dec. 15, 9 a.m.-noon and 1-4 p.m.

The Lincoln Jaycees are a not-for-profit organization serving Lincoln and the surrounding communities. The Lincoln Jaycees give young people between the ages of 18 and 40 the tools they need to build the bridges of success for themselves in the areas of business development, management skills, individual training, community service and international connections. Membership meetings are on the third Thursday of each month at 7 p.m. at the Lincoln Jaycees Center, 325 S. Chicago St., and are open to everyone.
---

Elkhart Historical Society announces book signing with Guy Fraker

ELKHART -- On Friday, Dec. 7, at 7 p.m., the Elkhart Historical Society will present a book signing for "Lincoln's Ladder to the Presidency: The Eighth Judicial Circuit" at Horsefeathers in Elkhart. Refreshments will be served.

Lincoln experts have called this new book superb, richly detailed and an effective lesson in the importance of political networking. This is the perfect time to obtain a signed copy of Guy Fraker's new book just in time for Christmas giving. Further information regarding the author and his book is available at www.lincolnsladder.com.
---