ALMH announces new weight loss program

Send a link to a friend
[December 11, 2012] Obesity can increase the risk for diabetes, heart disease, cancer and other serious health problems. In Logan County, 35 percent of adults are obese, compared with a national benchmark of 25 percent. Abraham Lincoln Memorial Hospital is addressing the obesity epidemic one person at a time with Moving Forward, a new weight loss program.
The Moving Forward weight loss program at ALMH is a 14-week program designed for individuals who have at least 30 pounds to lose. Participants will work toward improving overall health while reducing risk of heart disease, diabetes, hypertension and other diseases.

"As a participant of Moving Forward, we'll teach you how to lower your risk factors for many diseases and how to develop healthy lifestyle habits that will ultimately lead to weight loss and better overall health," said Todd Mourning, physical therapist and manager of rehabilitation services at ALMH.

A $150 fee for the 14-week program provides professional support on three levels. The fee includes a personalized health assessment, weekly follow-ups and weigh-ins with a registered dietitian, development of a personalized exercise plan, and monthly meetings with a behavioral therapist. Moving Forward participants will also have weekday access to the rehab gym at ALMH. The number of participants will be limited per session, and all participants must have physician approval.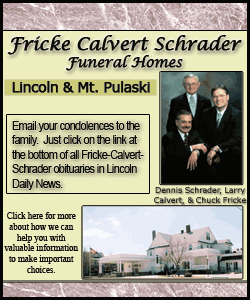 "We conducted a pilot program this past summer and are confident that the Moving Forward program provides all the support necessary for weight loss success. The program will work if the participant is dedicated to making changes to their lifestyle. ALMH couldn't be more pleased to offer this program to the community," said Mourning.
ALMH is a 25-bed critical-access hospital serving Logan and eastern Mason counties. For more information about the Moving Forward weight loss program, contact the rehabilitation department at 217-605-5500.
[Text from file received from Abraham Lincoln Memorial Hospital]