Flu facts
From the Logan County Department of Public Health

Send a link to a friend
[December 12, 2012] Seasonal influenza has started to circulate in our community. Most healthy adults can infect others one day before symptoms develop and five to seven days after symptoms appear. Some people, especially young children and people with weakened immune systems, might be contagious for a longer period of time.
There are steps you can take to help keep from spreading the flu when you are sick:
Wash your hands often with soap and water or an alcohol-based hand rub.

Try to avoid close contact with people.

Cover your nose and mouth with a tissue when you cough or sneeze. Throw the tissue in the trash after you use it.

If you are sick with flu-like illness, stay home for at least 24 hours after your fever is gone without the use of fever-reducing medicine.
The Logan County Department of Public Health has a limited supply of flu vaccines still available. The hours for vaccines at the health department are 7:30 a.m. until 4 p.m. Monday through Friday. No appointment is required. The influenza vaccine is also available on the HOPE Mobile during its regularly scheduled stops.
The cost of the seasonal flu shot is $25 for adults, $16.75 for children 6 months through 18 years of age who have no health insurance or health insurance that doesn't cover vaccines, and free to those with a Medicaid or Medicare card.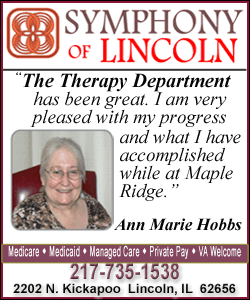 For more information on the seasonal influenza vaccine, call the Logan County Department of Public Health at 217-735-2317.
For more information, visit www.flu.gov and www.lcdph.org.
[Text from file received from the Logan County Department of Public Health]