Today's highlight in history:
On Dec. 12, 1787, Pennsylvania became the second state to ratify the U.S. Constitution.
On this date:
In 1870, Joseph H. Rainey of South Carolina became the first black lawmaker sworn into the U.S. House of Representatives.
In 1897, "The Katzenjammer Kids," the pioneering comic strip created by Rudolph Dirks, made its debut in the New York Journal.
In 1906, President Theodore Roosevelt nominated Oscar Straus to be Secretary of Commerce and Labor; Straus became the first Jewish Cabinet member.
In 1911, Britain's King George V announced during a visit to India that the capital would be transferred from Calcutta to Delhi.
In 1917, Father Edward Flanagan founded Boys Town outside Omaha, Neb.
In 1925, the first motel -- the Motel Inn -- opened in San Luis Obispo, Calif.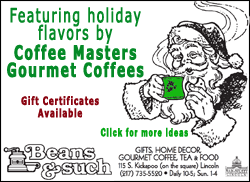 In 1937, Japanese aircraft sank the U.S. gunboat Panay on China's Yangtze River. (Japan apologized, and paid $2.2 million in reparations.)
In 1946, a United Nations committee voted to accept a six-block tract of Manhattan real estate offered as a gift by John D. Rockefeller Jr. to be the site of the U.N.'s headquarters.
In 1963, Kenya gained its independence from Britain.
In 1972, Irwin Allen's all-star disaster movie "The Poseidon Adventure" was released.
In 1985, 248 American soldiers and eight crew members were killed when an Arrow Air charter crashed after takeoff from Gander, Newfoundland.
In 2000, George W. Bush became the president-elect as a divided U.S. Supreme Court reversed a state court decision for recounts in Florida's contested election.
Ten years ago: President George W. Bush publicly rebuked Senate Republican leader Trent Lott for his statement that appeared to embrace half-century-old segregationist politics, calling it "offensive" and "wrong." President Bush named Wall Street investment banker Stephen Friedman to head his National Economic Council, replacing Lawrence Lindsey, who'd been ousted along with Treasury Secretary Paul O'Neill. Actor Nick Nolte pleaded no contest in Malibu, Calif., to one count of driving under the influence of drugs; he was sentenced to three years' probation.