These last two weeks, downtown Lincoln will continue to be alive with the hustle and bustle of shopping and holiday cheer. Shoppers can enjoy the convenience and pride of shopping locally. Santa will make appearances throughout downtown on Saturdays, Dec. 15 and 22.

On Dec. 15, Santa will start out the day at Owl's Roost from 10 a.m. to noon and finish up at Mary Todd's Hallmark from 3 to 5 p.m. after walking throughout downtown in between.

His final stop downtown will be on Dec. 22. That day he will start off at the Lincoln post office from 10 a.m. to noon, continue at the Lincoln Fire Department from 1 to 3 p.m. and finish up at Kroger's from 4 to 6 p.m.

Parents are encouraged to bring their youngsters and cameras along to see Santa, with photos welcome at all locations. Those keepsake snapshots are prized possessions for years to come.

Main Street Lincoln, a volunteer-driven organization, is pleased to participate in the holiday shopping season, promoting eateries, antique stores, thrift stores, one-of-a-kind shops, nightlife and entertainment, along with plenty of services and businesses. Stroll the festive streets, peruse the wonderful shops and find those Christmas treasures along the way.

For more information on any of these events, the Main Street Lincoln organization can be reached at 217-732-2929 or manager@mainstreetlincoln.com. Also, information and business specials are available online at https://www.facebook.com/
MainStreetLincoln.
---

Zion Lutheran student council offers warmth to those in need

For the sixth year, the student council of Zion Lutheran School in Lincoln will give out winter coats, sweaters and much more to those in need. This year's event will be on Monday, Dec. 17, from 5 to 7 p.m. at the LifePointe Church, just off the square in downtown Lincoln.

Anna Sielaff is the president of the student council this year, and the vice-president is Zac Prather. The council consists of 11 students from the school. According to Jennifer Prather, Zac's mom, this year the drive has brought in more than 500 items, including coats, sweatshirts, sweaters, gloves, hats and scarves.

Items are available in a wide variety of sizes from toddler to XXXL adult clothing.

Prather said the council has worked hard on the project this year, and it really took off, with a lot of people pitching in and making donations of gently used items.

All of the items to be given away are in gently used condition. They have been examined, minor repairs done when needed, and they have all been laundered courtesy of McEntire's Appliance in Lincoln.

Prather said the coat drive project began when Lexie Groves was the president of the council. She, her mother Terry, other student council members and their parents put together a drive and gave the coats away at the Logan County Food Pantry.

Even though Lexie is now a freshman in high school, Prather said Lexie's mom has been very much involved this year, helping the council to keep the project going into this year and the future.

Anyone who is need of a good coat, sweater or sweatshirt is invited to come to LifePointe Monday evening. The giveaway is a "no questions" program with no qualifying factors or need to show proof of your need. Simply come and get what you or your family need.

In addition, donations are still being accepted at McEntire's Appliance store through Monday. Anyone who has something in good, gently used condition that they no longer need is encouraged to donate to the drive and help someone in our community who might not otherwise be able to have warm clothing this winter.
---

Cathy Albert named ALMH Employee of the Year
Cathy Albert of Lincoln has been named the 2012 Employee of the Year at Abraham Lincoln Memorial Hospital in Lincoln.
CEO Dolan Dalpoas presented Albert with the honor Dec. 7 at the annual ALMH Holiday Celebration and Awards Night at the Knights of Columbus.
Albert works as a linen technician in environmental services. Her positive attitude is what caught the attention of her nominators and the ALMH Employee Activity Committee, who awarded the honor.
"Cathy's heart is as big as they get, and she is such a help to us, besides taking care of linen every day ... which is no easy task. She is always there when you need help and will do a person's work when they are off that day and never complain," her co-workers said in the nomination.
Cathy was born at St. Clara's Hospital in Lincoln and has lived in Lincoln most of her life, with the exception of some time living in Springfield. She and her husband, Tom, have three daughters, Tina, Desirae and Kaya, and a son, Floyd. She also has three grandsons, Kyle, Alex and Braydon, and a great-grandson, Riley.
She enjoys scrapbooking, working in the garden, walking and attending her family's sporting events.
Albert has been an employee of ALMH for 28 years. She likes working at the hospital because she loves seeing patients happy when she cleans their rooms and takes pride in lending a helping hand if she meets someone in the hallway and helps them find their way.
"ALMH is a great place to work. I have a great boss, great co-workers, and we do great things for the patients we serve," said Albert.
Cathy Albert was one of the 12 Employees of the Month selected in 2012 by co-workers or patients. The other Employees of the Month and their areas of work were Nathan Buss, acute care; Sara Ayer, radiology; Jennifer Wilham, rehabilitation; Cindy Jette, special procedures; Sherri Carlin, laboratory; Julie Cross, rehabilitation; Leslee Moore, environmental services; April Matherly, special procedures; Connie Haseley, radiology; Denise Allen, accounting; and Amy Knox, rehabilitation.
ALMH, at 200 Stahlhut Drive in Lincoln, is a 25-bed critical-access hospital affiliated with Memorial Health System. ALMH employs 310 in a variety of roles. For more information, visit www.almh.org.
---

IEMA, Grainger offer winter storm preparedness sweepstakes
Participants can enter to win vehicle preparedness kits
SPRINGFIELD -- Despite an unseasonably warm start to December, winter's cold, snow and ice are just around the corner. To help people get ready for winter weather, the Illinois Emergency Management Agency and Grainger are teaming up to offer an online winter storm preparedness sweepstakes. Five winners will receive vehicle preparedness kits donated by Grainger.
Grainger is North America's leading broad-line supplier of maintenance, repair and operating products.
The sweepstakes is available on the Ready Illinois website, www.ready.illinois.gov. Participants must read information about winter weather preparedness and successfully complete a five-question quiz before registering for the prize drawing. The sweepstakes runs through Dec. 31. Winners will be announced in January.
"Now's the perfect time to get ready for winter weather, particularly for traveling in snow, ice and bitterly cold temperatures," said IEMA Director Jonathon Monken. "This sweepstakes is a fun way for people to learn about winter preparedness, and five lucky people will win a preparedness kit for their car."
The vehicle preparedness kits donated by Grainger for the sweepstakes provide water, nonperishable food, flashlight, light stick, AM radio, batteries, rescue blanket, first-aid items and whistle.
"Cold weather can take its toll on individuals," said Jeff Metherd, emergency preparedness brand manager for Grainger. "Personal preparedness is important during inclement weather and year-round, and we are excited to work with the state to help promote its importance."
A winter storm preparedness guide developed by IEMA and the National Weather Service is also available on the Ready Illinois website or by calling 217-785-9925.
---

Abraham Lincoln Healthcare Foundation offers bricks in lieu of coal this Christmas
Just in time for the holidays, the Abraham Lincoln Healthcare Foundation has announced that it is selling its last commemorative bricks from the old Abraham Lincoln Memorial Hospital.
The bricks cost $20 each, and proceeds benefit ALHF. Each numbered brick has a plaque and comes with a certificate. Five hundred bricks to be offered for sale were set aside during the demolition of the old hospital, and only a few remain.
A limited number of bricks are available in the administration offices at ALMH, 200 Stahlhut Drive, as well as in the ALMH Gift Shop in the hospital lobby and at the Pink Shutter, 114 N. McLean. The hospital hours are 8 a.m. to 5 p.m. Monday through Friday, and the Pink Shutter is open Monday through Saturday from 9 a.m. to 4:30 p.m.
Abraham Lincoln Memorial Hospital is a community-based critical-access hospital serving the people of Logan and eastern Mason County. The Abraham Lincoln Healthcare Foundation was formed in 1986 to support the mission of ALMH. Contributions are welcome at any time. To learn more about foundation programs, visit www.almh.org or contact Marty Ahrends at 217-605-5006.
---

Christmas events at Mount Pulaski Christian Church
MOUNT PULASKI -- Mount Pulaski Christian Church Christmas events:
Tuesday, Dec. 18
All-church caroling, 6:30 p.m. (meet at the church)
Monday, Dec. 24
Christmas Eve service, 6 p.m., in the sanctuary.
---

Bosom Buddies host fundraiser at Russell Stover's

Bob Hashman, captain of the Relay for Life team Bosom Buddies, has announced that his team will host a fundraiser at the Russell Stover candy shop on Lincoln's west side on Saturday, Dec. 15.

During that day the team will receive a percentage of the price of all products sold at the store. The event will run for the full day, but one day only.

The Bosom Buddies encourage everyone to come out on Dec. 15 and pick up a box of holiday candy or other treats to help raise money for Relay for Life.

Relay for Life is an annual event, held nationwide. The funds raised are given to the American Cancer Society to help meet the needs of those suffering from cancer and to support research for cures.
---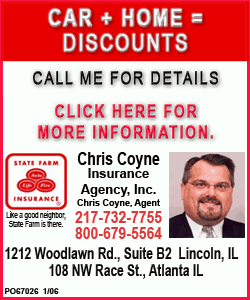 ---

Chamber recognizes excellence in our community

The Lincoln/Logan County Chamber of Commerce invites the public to help spotlight excellence in Logan County by making nominations for the chamber's Pride & Progress Awards. Nominations will be accepted until Jan. 7 to celebrate the achievements of chamber members in the continued development and improvement of Logan County..

The Pride & Progress Awards are designed to recognize outstanding achievement and promote positive awareness. The awards celebrate and acknowledge excellence, innovation, initiative, community involvement and are a thank-you to those who go the extra mile to make Logan County a great place to live, work and play.

Awards will be presented during the chamber annual dinner on Jan. 26 at the American Legion. All nominations are due by Jan. 7.

Awards are being given for:
Business of the Year, given to a business that contributes to the community, shows innovation and actively participates in events and projects within the community.

New Business of the Year, given to a business that has opened in the last 12 months and brings something new to the community, complementing and contributing to the growth of Logan County.

Mike Abbott Volunteer of the Year, given to a person who is involved, committed and goes the extra mile, is dedicated and selfless for the betterment of the community.

Beautification Award, given to a business that enhances, improves and transforms their corner of the community into a more attractive place.

Excellence in Service, given to a business that demonstrates a commitment to the community, its customers and its employees, giving 100 percent always.
To be eligible to receive one of the above awards, businesses or individuals must be members of the Lincoln/Logan County Chamber of Commerce in good standing.

You can nominate yourself or another chamber business for any of the Pride & Progress Awards. Visit www.lincolnillinois.com for a link to make your online nominations and a complete chamber membership listing. The community is invited and encouraged to make nominations for these awards.

Pride & Progress winners from annual dinner this year were:
Business of the Year -- Graue Inc.

New Business of the Year -- Anytime Fitness.

Mike Abbott Volunteer of the Year -- Joe Fitzpatrick.

Beautification Award -- Lincoln Theater 4.

Excellence in Service Award -- NAPA Auto Parts.

Ambassador of the Year, Marcia Cook.
The chamber's annual dinner and the Pride & Progress Awards are part of the chamber's mission to advocate, support and unify local businesses of the prosperity of Logan County.
---

Atlanta Betterment Fund board introduces 'Rt. 66 Reinterpreted' Art Project

ATLANTA -- In celebration of Route 66 and all it stands for, Atlanta -- located on the Mother Road, midway between Chicago and St. Louis -- announces its first "Rt. 66 Reinterpreted" Art Project.

Modeled on Chicago's "Cows on Parade" exhibit, the Rt. 66 Reinterpreted project presents artists the opportunity to create their own take on one of the 20th century's most iconic and recognizable symbols: the U.S. Route 66 highway shield.

Participating artists will be provided a blank, 2-foot-by-2-foot wooden cutout of the Route 66 sign, painted white, which will then become their personal canvas. The only requirement in creating a reinterpreted shield is to incorporate the text "Illinois U.S. 66" somewhere on the face of the shield, in whatever size, shape or color the artist desires. Everything else about the design, style, background and color of the reinterpreted shield is left to each artist's imagination and creativity.

The project is open to anyone 16 years old and above. Up to 50 entries will be accepted in this year's project, as determined by the date applications are received. All 50 entries will be displayed outside along Route 66 in downtown Atlanta from May 1 to Aug. 31, 2013.

The board of directors of the Atlanta Betterment Fund will select 10 shields out of the 50 entries as finalists. Shields selected as finalists will be judged on originality of design, overall concept and quality of execution.

Voting will then take place May 1-Aug. 31 to select the top five shield designs as winners of the 2012 project. Anyone, anywhere may vote, either in person at selected Route 66 attractions in Atlanta or online via Atlanta's website at www.atlantaillinois.org. The top five vote-getters will be the winners of the year's Rt. 66 Reinterpreted project.

At the conclusion of the project, the five winning shields, along with the names of the artists who created them, will be displayed on a permanent basis in the Atlanta Route 66 Park. Entries selected as one of the top five winning designs will also be showcased at the International Mother Road Festival in Springfield Sept. 27-29, 2013.

Artists wishing to enter the Rt. 66 Reinterpreted Art Project must submit a completed application form, along with a $25 entry fee. Completed applications are due on or before Feb. 1. Applications received after Feb. 1 will not be accepted.

Completed Rt. 66 Reinterpreted shields should be carefully packaged and returned to: The Atlanta Betterment Fund, 114 SW Arch St., Atlanta, IL 61723. Shields should be submitted between March 1 and April 5, 2013. Shields received after April 5 will not be accepted.

The Atlanta Betterment Fund sponsors the Rt. 66 Reinterpreted Art Project.

All decisions regarding judging are final. Entries selected as finalists will be notified by April 30, 2013. Entries selected as one of the top five winning designs will be notified by Sept. 1, 2013.

Click on the "Route 66 Art Project" logo at www.atlantaillinois.org for more information, including project guidelines and an application form to enter the Rt. 66 Reinterpreted Art Project. Or contact:

William Thomas
Atlanta Betterment Fund
114 SW Arch St.
Atlanta, IL 61723

217-648-5077
---

St. John UCC December schedule of events

St. John United Church of Christ, 204 Seventh St.., has scheduled special Christmas music for the December services, including pre-service music each Sunday before 10:30 a.m. worship.

Dec. 16
Pre-service music -- Handbell Choir, directed by David Helm

10:30 a.m. -- During the morning worship service, coats collected for Community Action will be presented to them.
Dec. 23
Pre-service music -- Laura Lee, organist

10:30 a.m. -- Worship with Communion

Sunday school program and puppet show, directed by Donna Kessinger

Bells and Children's Chimes
Dec. 24
10:30 p.m. -- Pre-service music by Handbell Choir, directed by David Helm

11 p.m. -- Worship with Christmas Carols, Communion and candlelight service

Anthem: "Were You There on That Christmas Night." Soloist Michael Schneider with Adult Chime Choir.

Solo: "Ave Maria," by Franz Schubert. Soloist Michael Schneider.
---

Logan County Art Association presents "Predictions"

The newly formed Logan County Art Association is presenting its first show, "Predictions," at the Lincoln Art Institute, 112 S. McLean St., from Dec. 20 through Jan. 12.

There will be an opening reception from 6 to 9 p.m. Thursday, Dec. 20. Light refreshments will be served, everyone's welcome, and there is no admission charge

The show is based on the predictions by the Mayan calendar, Nostradamus and Edgar Cayce as well as other sources that suggest a catastrophic event will take place on Dec. 21.

For additional information, contact Georgie Borchardt by phone at 309-244-5708 or by email at logancountyaa@gmail.com.

___

Logan County Art Association Facebook page: https://www.facebook.com/
LoganArtAssociation

Lincoln Art Institute website:
http://lincolnartinstitute.wix.com/lincolnil#!
---

Zion Lutheran live Nativity scheduled for Dec. 14 & 15

The annual Zion Lutheran Church drive-thru live Nativity is scheduled for Friday and Saturday, Dec. 14 and 15, from 6 to 8 p.m. The outdoor scene, portrayed by church members and live animals, is set to favorite Christmas hymns and presented on the grounds of Zion Lutheran School, 1600 Woodlawn Road in Lincoln, across from Wal-Mart.

No admission is charged, but nonperishable food items will be collected for the Lincoln/Logan Food Pantry.
---