[December 14, 2012]
Send a link to a friend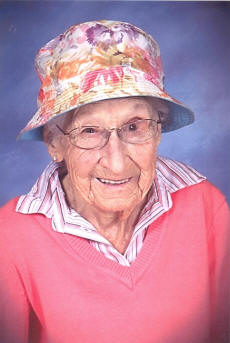 MOUNT PULASKI -- Florence Bacon Schott Stoll, 97, of Mount Pulaski, Ill., died Dec. 11, 2012, at 3:45 a.m. at Abraham Lincoln Memorial Hospital in Lincoln.
Florence was well known to everyone in the Mount Pulaski area as a spry and spunky woman, independent and outgoing.
She was also well known for her regular column in the Mount Pulaski newspaper and her leadership of the Mount Pulaski Kitchen Band.
Below are pictures from the kitchen band days, when the group went to a variety of nursing homes in the region, wearing outrageous outfits and delivering smiles and great music from their kitchen instruments.
The group also appeared on the "Ted Mack Amateur Hour." The last two pictures are of the cover of the TV Guide where they were listed to appear and the page on which their listing appears.
Pictures below from the collection of Florence Stoll, on loan to Phil Bertoni