A tribute to a Mount Pulaski icon:
Florence Bacon Schott Stoll
By Phil Bertoni
Send a link to a friend
[December 14, 2012] MOUNT PULASKI -- Florence Bacon Schott Stoll, 97, recently passed on to her heavenly reward to which she always aspired but still had "just another thing to do or see." She was so many things, wore so many hats, "led so many lives," as one granddaughter happily related to me. She was the daughter of a doctor and the wife of an imaginative university college graduate in electrical engineering, yet "she knew who she was and was her own person" -- a remark by someone who knew her the shortest amount of time among those in a packed Mount Pulaski Zion Lutheran Church reception room of visitation greeters who had known Florence for so many, many years.
Florence, a graduate of Springfield's Memorial Hospital School of Nursing, once worked in the Illinois Department of Mental Health. Later, no doubt realizing she could do as good a job or better in contributing to the betterment of the mental health of so many more, she gleefully stepped in as the director of the Mount Pulaski Kitchen Band -- using kitchen utensils and cooking wares, highlighted by a renowned whistler, Mary Febus. The group performed for scores of nursing facilities, county and state fairs, and a host of other gatherings throughout Illinois for over 40 years -- performing several times for Chicago's WBBM radio station and then WBBM-TV's nationally syndicated "Ted Mack's Amateur Hour," in February of 1964.
She didn't make the national stage again -- unlike former Mount Pulaskians Vaugh De Leath, Lucille Ryman and others before her -- and no doubt she didn't wish to leave her cozy adopted town. For where else could she raise a family, love her children and grandchildren, teach Sunday school, sing in the church choir, play piano in the local nursing facility, tell stories, be a Girl Scout leader, actively serve on annual fall festival committees, do banquet emcee gigs, belong to ABWA, VFW Auxiliary, Women's Club, and Red Hatters in addition to directing the kitchen band?
She was at one time a reporter for the Lincoln Courier, and for many years until her passing this past Tuesday, she authored a twice-a-month column, "Florence's Corner," in the local newspaper -- writing her last column just two weeks ago in the Mount Pulaski Times of Dec. 6, 2012.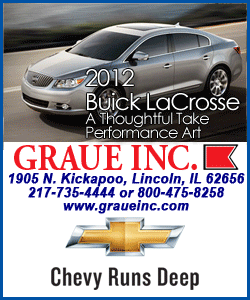 "Florence," we used to tease at her Vonderlieth Living Center piano several years back, "you are older than most of the people you're playing for here today."
In that last "Florence's Corner," she wrote: "Life is Sweet," and "now that we have Thanksgiving in the past" and are amidst all the sounds of the holidays, "let's not forget the true meaning of Christmas -- the birth of JESUS." As always with a quip, she concluded with reference to a helpful roadside good Samaritan servicing their broken-down car, who answered when queried, "Are you a mechanic?" "No, I'm a McTavish."
[By PHIL BERTONI]