---
CHRISTMAS SERVICES ST. JOHN UNITED CHURCH OF CHRIST
204 7TH Street; Lincoln
Pre-service music each Sunday morning before 10:30 a.m. worship

Dec. 23-Pre-service music: Organist, Laura Lee
10:30 a.m. Worship with communion.
Sunday School program/Puppet Show, directed by Donna Kessinger Bells and Children's Chimes

Dec 24 -pre-service music at 10:30 by Handbell Choir directed by David Helm. Worship at 11:00 p.m. Candlelight Christmas Eve Service of lessons and carols with communion.

Anthem "Were You There On That Christmas Night" soloist Michael Schneider with Adult Chime Choir. Solo: "Ave Maria" by Franz Schubert, soloist Michael Schneider
---
Mount Pulaski Christian Church Christmas events
Tuesday, December 18, all-church carolling 6:30 p.m. (meet at the church)
Christmas Eve service 6:00 p.m. in the sanctuary.
---
Zion Lutheran Church, 205 Pulaski St., Lincoln
Advent Worship – December 19th – 7:00 p.m.
Christmas Eve – 6:30 & 10:00 p.m.
Christmas Day, one service only – 9:00 a.m.
New Year's Eve – 6:30 p.m.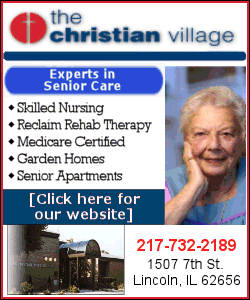 ---
CHRISTMAS EVE CANDLELIGHT SERVICE - MONDAY, DECEMBER 24 @ 10 PM
Come as you are (bring the kids in their pj's) and join us. This brief service will fill all who attend with HOPE as we come face to face with the overwhelming love of God. Join us at Open Arms Christian Fellowship 311 Broadway.
---
Please join us for Christmas Eve Candlelight and Communion Services, December 24th at 7pm and 10pm at Immanuel Lutheran Church, 1409 Pulaski St. near the Lincoln Community High School parking lot. Celebrate the season with family and friends.
---
Lincoln Christian Church, 204 N. McLean St. in Lincoln, will celebrate with a Christmas Eve Service at 6:00pm and 8:00pm. Bring the family and join us for a beautiful candlelight/communion service.