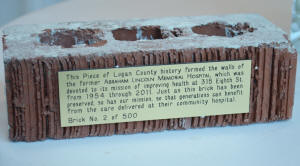 Abraham Lincoln Healthcare Foundation offers bricks in lieu of coal this Christmas

Send a link to a friend
[December 10, 2012] Just in time for the holidays, the Abraham Lincoln Healthcare Foundation has announced that it is selling its last commemorative bricks from the old Abraham Lincoln Memorial Hospital.
The bricks cost $20 each, and proceeds benefit ALHF. Each numbered brick has a plaque and comes with a certificate. Five hundred bricks to be offered for sale were set aside during the demolition of the old hospital, and only a few remain.

A limited number of bricks are available in the administration offices at ALMH, 200 Stahlhut Drive, as well as in the ALMH Gift Shop in the hospital lobby and at the Pink Shutter, 114 N. McLean. The hospital hours are 8 a.m. to 5 p.m. Monday through Friday, and the Pink Shutter is open Monday through Saturday from 9 a.m. to 4:30 p.m.

Abraham Lincoln Memorial Hospital is a community-based critical-access hospital serving the people of Logan and eastern Mason County. The Abraham Lincoln Healthcare Foundation was formed in 1986 to support the mission of ALMH. Contributions are welcome at any time. To learn more about foundation programs, visit www.almh.org or contact Marty Ahrends at 217-605-5006.