Of the five wards, three participated Monday evening: Wards 1, 2 and 5. Wards 3 and 4 will be done at a later date.

The first up to make a presentation was Alderwoman Melody Anderson, who spoke on behalf of herself and Stacy Bacon, who was absent for the evening.

Anderson said she and Bacon had chosen Mike Irwin as their resident of the year.

Irwin is the president of the Logan County affiliate of Habitat for Humanity.

"We want to show our appreciation for all Habitat does for the community and realize there is no way it could all be accomplished without the hardworking volunteers like Mr. Irwin," Anderson said.

Anderson said she and her husband, Andy, have helped on past Habitat homes and have taken advantage of the electronics recycling. She said the Ward 1 recognition was going to Irwin, but also to all the Habitat volunteers.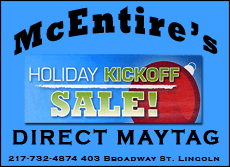 Irwin spoke briefly, saying he was accepting the recognition not only for himself but for all the volunteers of Habitat for Humanity.
Afterward, Mayor Keith Snyder congratulated Irwin and offered as a token of appreciation a Lincoln High School Railer Man Christmas ornament.
Irwin also mentioned that on Sunday, Habitat will have a house blessing for their 17th Logan County build. He invited everyone to join them at the celebration.
Next, David Wilmert said the choice for Ward 2 resident of the year was John and Frankie Guzzardo and family. He then turned the presentation over to his counterpart, Kathy Horn.
Horn said the Guzzardos were being chosen for their dedication to offering a Thanksgiving meal each year to those who would otherwise not have one.
"He has done so much for Lincoln in so many ways, but we especially want to recognize Mr. Guzzardo, his family, his restaurant family and all the volunteers that come to help with the deliver(y) of over 400 dinners this Thanksgiving for people in need," Horn said.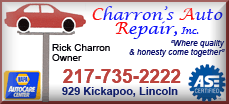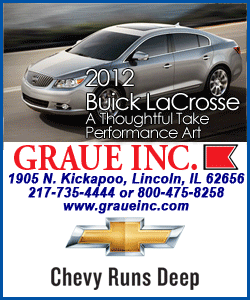 Guzzardo said he wanted to thank everyone who helps out every year. He said he never asks for volunteers for the delivery, but folks just show up. He noted that they start at 10:45 a.m., and people come and the line of vehicles goes all the way to the courthouse square.
The Ward 5 resident of the year was recognized by Alderwoman Marty Neitzel on behalf of herself and Jeff Hoinacki, who was absent for the evening.
Ward 5 selected Tim Smith as their resident of the year. Smith has been heavily involved in the community garden projects in Lincoln.
Neitzel noted that Smith had offered help to novice gardeners, had participated in a spring workshop, and offered education and advice. Smith also watched over the Logan Street garden, helping to keep it looking good, and he spent unknown hours watering.
"He was known to work late into the night to avoid the heat of the day. He mentored other gardeners and also planted one plot for a gardener who was unable to," Neitzel said.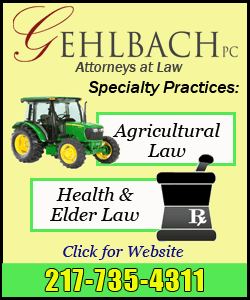 When Smith took the podium, he began by expressing great appreciation to American Water, which gave the gardeners water service free of charge. He said without that, there would have been no gardens this year. He also thanked Jim Austin at the Logan County Fairgrounds who hauled "fertilizer" from the horses to the gardens.
Guzzardo and Smith were also congratulated by Snyder and offered the gift of a Railer Man Christmas ornament.
The other two residents of the year will be recognized after the first of the year, as Monday night's meeting was the last council meeting in 2012.
[By NILA SMITH]