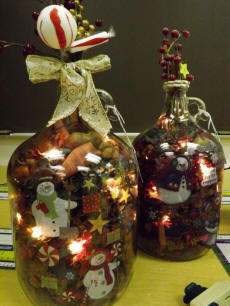 Nov. 20 -- If you love unique and beautiful things but have never been to Christmas on Vinegar Hill in Mount Pulaski, mark your calendar now and plan on making the trip next year.

This year the event brought hundreds of folks out into the small community as they rushed to be the first to grab up something new and different for their holiday decorating.

Along with great items like these lighted jars, there were tons of other items as well, such as food products, baked goods, jewelry, handbags and oh-so-much more.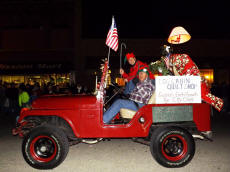 Nov. 30 -- Thursday night this little 1968 Jeep and Tim Becke of the Log Cabin Quilt Shop were all decked out for the annual Lincoln Christmas Parade. At the same time they were showing their support for Susan Gehlbach, city clerk, who will run for re-election in 2013. The annual downtown parade is sponsored by Main Street Lincoln and the city of Lincoln. This year's parade was reported to be the largest the city has seen in several years.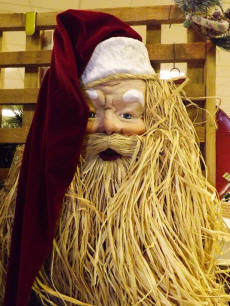 Nov 20 -- Christmas on Vinegar Hill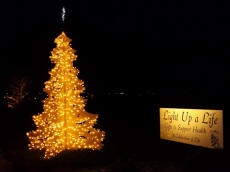 Nov. 28 -- Tuesday evening the Abraham Lincoln Healthcare Foundation held its annual Light Up A Life ceremony on the east patio of the hospital. Each Light Up A Life tribute directly benefits patient care in Logan County. Gifts may be designated to purchase medical equipment at ALMH, fund Memorial Home Services Hospice care, support scholarships for future ALMH health care providers or provide general support for future ALMH projects.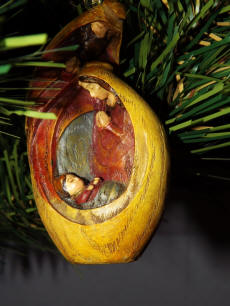 Dec. 1 -- The joy of the Nativity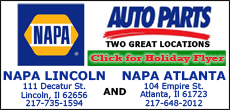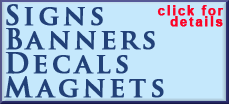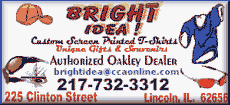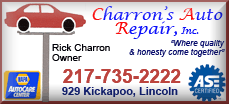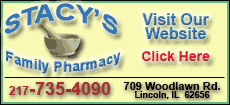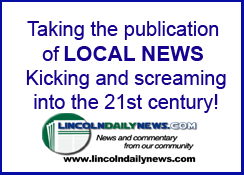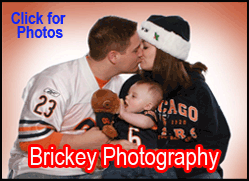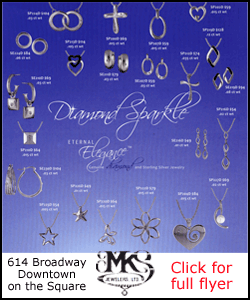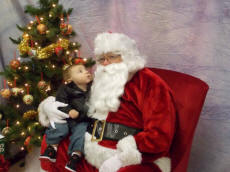 Dec. 3 -- A child's first encounter with Santa can be a magical and mystical thing. Saturday morning at the Christmas Mustang Style event in New Holland, this little tyke offered a fine example of that.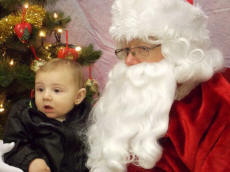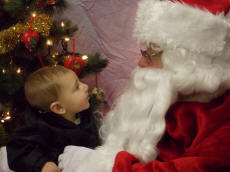 Dec. 3 -- As he sat on Santa's lap, he wasn't quite sure what to think of the big guy with the white beard and red suit.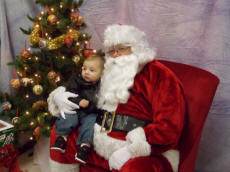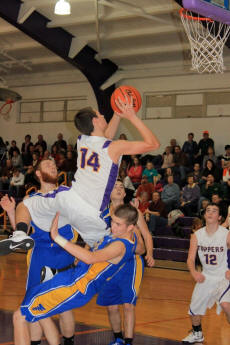 Nov. 27 -- Athletes, acrobats or maybe a little bit of both.

Saturday the Mount Pulaski Hilltoppers pulled out all the stops in trying to take a third victory at the second annual Mount Pulaski Turkey Tournament.

After taking a loss on Friday, the team was hoping for a comeback, but it didn't happen. They narrowly lost their game against the Tri-City Tornadoes with a score of 50-48, leaving them with a fourth-place finish overall.

At left, Michael Lowery drives the basket and gets called for the charging foul.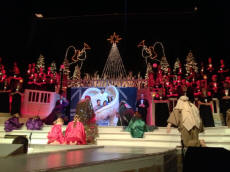 Nov. 30 -- LCU presents Christmas in the Chapel.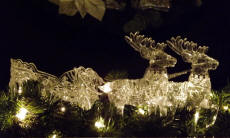 Dec. 10 -- This lovely crystal sleigh with reindeer is just one of the beautiful Christmas decorations that adorned the homes in this year's Mount Pulaski Holiday Home Tour.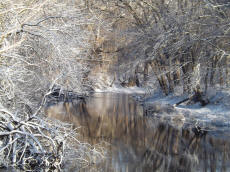 Dec 22 -- In spite of the hazards it created Thursday evening, by Friday morning Draco had created a winter wonderland at Kickapoo Creek Park. Those who got out and took a stroll through the park were treated to some truly beautiful sights.