The game may prove to be more costly to Sparty than just the one game in the loss column. Superstar and leader of the team Draymond Green had a night that he'd just soon forget. He entered with stomach flu, got two quick fouls, spouted off to the ref, picked up No. 3 with a technical, scored only five points, then collided with one of the Illini players and may have badly injured his knee. No reports on his condition were available at posting time.

I can give you the stats that prove Illinois won the game, but it would be virtually impossible to describe the extent to which both teams went to make this one of the worst games I have ever personally witnessed … and that's saying something.

Of course, Brandon Paul led the way (where would the Illini be this season without his emergence?) with 18 points, nine rebounds, five assists, and I think I spotted him tumbling with Jesse White's crew at halftime! D.J. Richardson grinded his way to nine points, and the Illini got a huge lift of six points off the bench from freshman Myke Henry! And freshman point guard Tracy Abrams hit what was arguably the biggest shot of the game when he connected for 3 from the top of the key to tie the game at 40 with only 2:11 to play. Just three free throws accounted for all the scoring the rest of the way.

But that's not the half of it. Check out the mystifying box score and you will scratch and shake your head wondering how it is even possible that the Illini won this game. Illinois was outrebounded 51-32 by the giant Spartans, who got 23 of those on the offensive glass. And Illinois survived that to still win? The reason: Both teams scored only 13 second-chance points. The Illini shot only 33 percent from the field but limited Sparty to 24 percent (MSU's lowest of the season as well as their lowest point total). The reason: gutsy defense for most of the game. Illinois shot a disgusting 53 percent from the free-throw line and it almost bit them. The reason it didn't: They scored only one less point from the line while only getting five more chances (usually Big Ten home teams have a larger disparity than that, but I'm not going to get into that).

And on and on it goes. I believe that this win marked only the second time in Illinois history that the Illini have beaten two teams ranked in the top 10 during the regular season (they beat No. 5 OSU back on Jan. 10). Be that as it may, I have no idea how they pulled this one out. I believe that MSU had at least three shots in the final minute to steal the win, but Illinois refused to fold, hung tough and may have salvaged a season-saving win. That's true especially when you factor in the last three games … all disheartening and very disappointing losses to Penn State, Wisconsin at home and the debacle in Minnesota.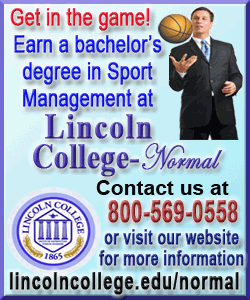 So what does it all mean? A quick glance at the league standings shows that Illinois knocked MSU out of first place last night and jumped themselves past IU into a tie for fourth place with Purdue. IF teams keep knocking each other out, which is what I expect, the Illini have the chance to sneak up a little higher. You'd like to have two or three of those recent games back, but I guess everybody could say that. If Wisconsin shoots like they did last night at Penn State in Champaign, then they take the loss there. Of course, they couldn't miss, so it's a moot point.
I do think it means that the crown is still OSU's or MSU's to lose. With last night's win, Illinois moves to 16-6 on the season and 5-4 in conference play. If you're scoring at home, Illinois was 4-4 at the end of January last season. In 2009-2010 they were 5-3, and in 2008-2009 they were 5-3. So, as you can see, it all depends on what they do at the crossroads, which is right now.
Since this team just won yet another close game, they seem to have a moxie that recent squads did not. Even though they've been playing with huge expectations on their shoulders and not scoring a lot of points, they have still found ways to win. What will happen if the lids come off those hoops?
Unfortunately, after Sunday's home game with Northwestern, they've got some brutal road trips to make. They still have to play at Indiana, at Michigan, at Ohio State and at Wisconsin. It does not present a hopeful picture, but as they say -- anything can happen. At this juncture the Illini are staying alive, and maybe soon the shots will start to fall.
[By JEFF MAYFIELD]
Respond to the writer at jmayfield@ctitech.com.