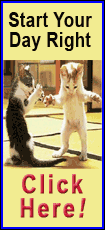 How long have you been a Chamber member?
Since we opened 3˝ years ago. June 2008
I joined the Chamber because…
We felt that was a great way to get to know the community, the area businesses and organizations. It was also a great way for everyone to get to know us.
Why did you decide to invest in Logan County?
We wanted to be a part of the growing, progressive community that Lincoln is. We liked what Lincoln/Logan County has to offer.
What products and services do you offer to Logan County?
First class hotel accommodations, meeting room, "hot on the house breakfast", and "Cloud 9" bedding.
What does the future of your business look like?
Looks great! The area is growing, we are growing, and the Hampton chain is growing.
Contact person: Julie Burr at 217-732-6729
[Text from file received from the Lincoln/Logan County Chamber of Commerce]