(Copy)

The Lincoln/Logan County Chamber of Commerce Workforce Readiness Expo (WRE) Committee is looking for local business partners to invest in the future workforce of Logan County. Last year's WRE ranked number 3 on the Courier's "Things we would like to see in Logan County" list. The WRE is an event that gives local high school students the opportunity to visit with Logan County businesses that may one day offer them a job, in addition, experienced professionals take time to teach students valuable workforce skills that many business leaders say are lacking in today's workforce pool. The Workforce Readiness Expo will be held on Tuesday, April 24th at Jefferson Street Christian Church.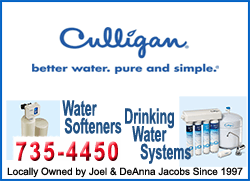 This event is NOT a job fair. The chamber is hoping to accomplish two things with the Annual Workforce Readiness Expo. 1. Prepare local high school students in Logan County for the next step, whatever that next step would be for them. Workshops will be offered on career planning, goal setting, resume writing (interviewing), workplace educate, and how to maximize students remaining years in school. 2. With the business expo portion of this event, the chamber is hoping to show Logan County youth that there are viable careers in Logan County, so they don't have to leave to make a good living. "Instead of job shadowing just one career, this event equips students with needed skills while exposing them to numerous local occupations" says Kristi Powell, of Heartland Community College and committee member
"We are asking for the community's help to ensure the sustainability of this excellent event. Last year Lincoln Community High School had a grant that helped financially support the event. Unfortunately they did not receive this grant again this year. Our objective with the WRE is to help create a better workforce pool for our local businesses, also to engage students early with our business community to show them there are viable career choices in Logan County. There are several ways the community can get involved in this event to ensure its success year after year." said Andi Hake, executive director of the Chamber of Commerce.
Volunteers are needed to serve on a one-hour educational discussion panel in the areas of Agriculture, Healthcare, Civic/government/non-profit, or entrepreneurship and manufacturing. These spots are filling up quickly, but if someone is interested in volunteering for a panel they just need to contact the chamber office.
Being a sponsor of the event is a much needed way to help the WRE. A minimum of thirty sponsors at $50 each is needed to be able to hold the event this year, and one lunch sponsor to help feed the students lunch on the day of the event. Each sponsor is given a booth space in the expo portion of the event. The Expo is when the students have the opportunity to engage with businesses on the best path to take in order to be able to qualify for a position in that particular field. "The expo concept is the hardest for our local businesses to grasp. It is not necessarily a job fair, nor are they selling a product. It is much more a philanthropic act than a sales expo. If the WRE continues to succeed then our local businesses will see the benefits back ten-fold in a higher quality applicant and employee" Hake added.
Contact the Chamber if you are interested in supporting the Workforce Readiness Expo. The event will be held at Jefferson Street Christian Church from 8:00am to 1:30pm on Tuesday, April 24. Contact the Chamber office for more details 217-735-2385 or chamber@lincolnillinois.com.
The Workforce Readiness Expo directly reflects the mission of the Chamber to be the advocate for business by providing leadership, programs, and services that create, protect, and enhance the business environment for the benefit of Chamber members and Lincoln/Logan County.
[Text from file received from the Lincoln/Logan County Chamber of Commerce]