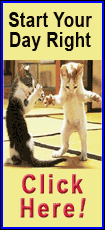 The Banque de France set a deadline of the close of business Friday for French savers to exchange whatever leftover franc notes they've kept socked away in drawers or under mattresses, whether held onto intentionally as souvenirs or simply forgotten about.
The euro replaced the franc in wallets and purses in January 2002, but the central bank has continued to accept francs in exchange for euros until now.
The franc's end comes as the euro suffers the worst crisis since its creation, and the once-taboo question of a eurozone breakup is now front page fodder.