Have You Experienced The Loss of a Loved One?

A thirteen-week GriefShare support group will begin on Tuesday, Feb. 21 at 6:30 p.m. in the basement of the Nazarene Church in Lincoln (next to Jim Xamis Ford on Woodlawn Road), led by Keith Boggs and Pastor Greg Wooten. This is open to ANYONE who has experienced the loss of a loved one. Each session includes a DVD, followed by a time for discussion and sharing. Each session is "self-contained," so you do not have to attend in sequence. You will find encouragement and help whenever you begin. Those interested should contact Keith Boggs at 217-737-5280. GriefShare is a friendly, caring group of people who will walk alongside you through one of life's most difficult experiences. You don't have to go through the grieving process alone. GriefShare seminars and support groups are led by people who understand what you are going through and want to help. You'll be gain access to valuable GriefShare resources to help you recover from your loss and look forward to rebuilding your life.
---
The LAMA (Lincoln Area Ministerial Association) will have their monthly meeting this Wednesday 11:30 - 1:00. The meeting will be hosted by Pastor Dustin Fulton and the Jefferson Street Christian Church Family. The church is located at 1700 N. Jefferson Street in Lincoln. All Lincoln Area Pastors, ministers, & clergy are invited & encouraged to attend. A meal will be provided. Many topics pertaining to the community such as Pregnancy Resource Center, Transient Fund, Good Friday Service, Together For Lincoln,etc. will be discussed. This is a great time of prayer, fun, food, fellowship and productivity! Any questions or for more information, please contact Pastor Larry Crawford at Open Arms Christian Fellowship @ 217-732-4800.
---
Ash Wednesday Service

An Ash Wednesday Service will be held at St. John United Church of Christ, 204 Seventh Street, Lincoln, IL on Wednesday, February 22, at 7:30 P.M. The service will in clued imposition of the ashes, and Holy Communion. Open communion is practiced in the United Church of Christ meaning any baptized member of any Christian Faith may participate. You are cordially invited to join us as we journey into the Lenten season and Easter Sunday.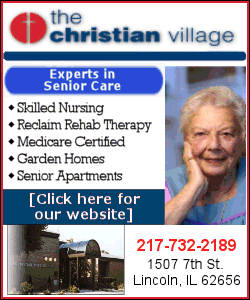 ---
First Cumberland Presbyterian Church, 110 Broadway, invites the community to join them for lent services every Wednesday at 10 a.m. and 7p.m. starting Feb.29th thru March 28th. For more information please phone 732-7568 or email: Cumberland@frontier.com.
---
TUA-Y-C-EBF coming March 3!

Mark your calendar for the Ultimate All-You-Can-Eat Breakfast Fundraiser March 3rd , serving 6am to noon in the Fellowship Center at Lincoln Christian Church. This is one of just a couple of fundraisers that God News and HeartSong will be doing to raise funds for our annual student choir tours in June. The TUA_Y-C-EBF mouth-watering menu includes: pancakes, scrambled eggs, sausage, biscuits, gravy and fried potatoes. Carry-out is available (but not if you have eaten in). Get your tickets from any Good News or HeartSong student choir member or by calling the church office at 732-7618.
---