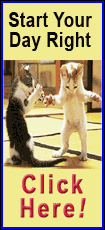 President Susilo Bambang Yudhoyono said "Born to be Wild 3D" tugged at his heart. He hopes it will inspire his countrymen to work harder to save the red apes from extinction.
Producer Drew Fellman said a special viewing will be held on the island of Borneo, where much of the film is set, so the orangutans can get a peak for themselves.
He's setting up a screen in the rain forest to see if they'll pay attention.
It's also his way of saying thank you.
"They worked pretty hard on it," Fellman said Tuesday as he headed to the site. "They came to be like members of the crew."
The 40-minute Warner Bros. and IMAX documentary, narrated by Academy Award-winning actor Morgan Freeman, follows two women and the animal orphanages they built on opposite sides of the globe.
Daphne M. Sheldrick has spent a lifetime in Kenya caring for elephants whose mothers were poached for their tusks.
Canadian Birute Mary Galdikas, who arrived in Indonesia in the 1970s, has more than 300 young orangutans at her care center just outside Tanjung Puting National Park.
Many of their mothers were killed when they strayed into agricultural plantations in search of food. Others have been hunted by villagers as pests or, occasionally, for their meat.