Flu facts
From the Logan County Department of Public Health

Send a link to a friend
[February 15, 2012] If you are taking care of someone at home who has the flu, you should protect yourself and other people in the household.
Avoid being face-to-face with the sick person. When holding small children who are sick, place their chin on your shoulder so that they will not cough in your face.

Remind the sick person to cover coughs and clean hands often, especially after coughing and sneezing.

Ask the person's health care provider about any special care that might be needed, especially if the person is pregnant or has a health condition such as diabetes, asthma or emphysema.

Ask the patient's health care provider whether the patient, household contacts of the sick person or you, as the caregiver, should take anti-viral medications.

Keep the sick person away from other people as much as possible, especially others who are at high risk of complications from the flu.

Make sure everyone in the household cleans their hands often, using soap and water or an alcohol-based hand rub.

Follow proper cleaning and disposal procedures. Throw the sick person's tissues and other used disposable items in the trash immediately. Clean all surfaces by wiping them down with a disinfectant.

Seek medical attention right away if the patient has:

Difficulty breathing.

Purple or blue discoloration of the lips.

Pain or pressure in the chest or abdomen.

Sudden dizziness.

Severe or persistent vomiting.

Confusion.

Seizures (for example, uncontrolled convulsions).

Flu-like symptoms that improve but then return with fever and worse cough.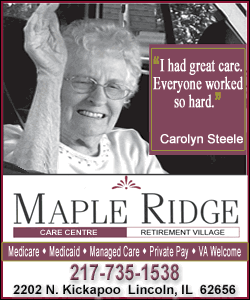 The hours for vaccines at the health department are 7:30 a.m. until 4 p.m. Monday through Friday. No appointment is required. The influenza vaccine will also be available on the HOPE Mobile during its regularly scheduled stops.
The cost of the seasonal flu shot is $30 for adults, $16.75 for children 6 months through 18 years of age who have no health insurance or health insurance that doesn't cover vaccines, and free to those with a Medicaid or Medicare card.
For more information on the seasonal influenza vaccine, call the Logan County Department of Public Health at 217-735-2317.
For more information, visit www.flu.gov and www.lcdph.org.
[Text from file received from the Logan County Department of Public Health]