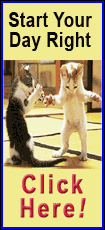 The Ledger of Lakeland (http://bit.ly/yNXxmt) reports that prosecutors will use the results to determine whether to file murder charges against 57-year-old Jeremiah Fogle.
Polk County Sheriff's officials have previously accused Fogle of killing his wife before heading to the Greater Faith Christian Center Church and shooting the Rev. Carl Stewart and another pastor, who was injured but survived and has since returned to the pulpit.
Authorities say a friend became worried last week after he hadn't heard from Stewart. The friend found the 65-year-old dead.