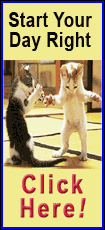 Santorum told voters in eastern Ohio on Monday that science is on the side of those who want to aggressively produce more oil and natural gas in America. He said the notion of global warming is not climate science but "political science."
Santorum said Obama and his allies want to frighten people about new oil-exploration technologies so they can get your dollars and turn it over to politicians to win elections "so they can control your lives."
Ohio's GOP primary is March 6.
Santorum also planned several campaign appearances later Monday in Michigan. Voters there go to the polls on Feb. 28.