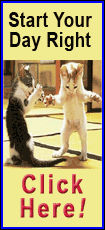 The Illinois Audubon Society released the numbers on Tuesday, saying there were 2,152 eagles counted. That's up from the 2,108 counted in January 2011. Surveyors use 44 routes in Illinois to count bald eagles. Of those, 29 are along the Mississippi River and nine on the Illinois River. Others are on the Ohio River, Wabash River, Crab Orchard Lake, Horseshoe Lake Conservation Area and Carlyle Lake.

The largest populations, about 76 percent, were found along the Mississippi River. The second-most were counted on the Illinois River, at 21 percent. Of the total, more than 60 percent were adults and about 40 percent were immature or un-aged.

___

Online: http://www.illinoisaudubon.org/

Copyright 2012 The Associated Press. All rights reserved. This material may not be published, broadcast, rewritten or redistributed.