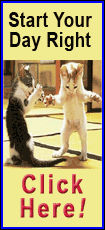 Wednesday's televised debate highlighted the dilemma. The four contenders engaged in long, sometimes dense discussions of Planned Parenthood, education policy and congressional earmarks. Talk of jobs and the economy seemed to consume less time and stir less passion.
That's partly because of the questions asked by CNN moderator John King. But in general, his topics closely tracked the news coming from the campaign trail, and the candidates rarely tried to change the subject.
Rick Santorum's recent rise in the polls has focused new attention on social issues, especially abortion and birth control. Those topics fire up the religiously conservative crowds he often draws, but they might turn off more moderate voters worried about finding or keeping jobs for themselves and their families.
Meanwhile, there are signs that President Barack Obama may be benefiting from the increased GOP focus on social issues, at least a bit. A new Associated Press-GfK Poll found Obama with an 8-point lead over Mitt Romney, 9 points over Santorum and 10 points over Newt Gingrich and Ron Paul. The survey showed the president dominating among independents, a group central to his 2008 victory. Their support for Obama had faltered in recent months.
Obama is far from safe, of course, and any number of problems -- starting with a possible economic dip -- could undo him before November. But his supporters had to be happy with a two-hour Republican debate that often showed the candidates quarreling over congressional procedures, a distasteful topic to many Americans.
The debate, which came six days ahead of the Arizona and Michigan primaries, was especially difficult for Santorum. The former Pennsylvania senator got pinned down trying to explain his now-regretted vote for President George W. Bush's "No Child Left Behind" education program.
"I have to admit, I voted for that," Santorum said. "It was against the principles I believed in, but, you know, when you're part of the team, sometimes you take one for the team."
Santorum also got bogged down explaining how he voted for a massive spending bill with funding for Planned Parenthood -- a group he strongly opposes -- because it was the only legislative vehicle to fund vital programs elsewhere. "I think I was making it clear that, while I have a personal moral objection to it -- even though I don't support it -- that I voted for bills that included it," Santorum said to scattered boos.
It was reminiscent of John Kerry's infamous 2004 remark, "I actually voted for the bill before I voted against it." Like Kerry, Santorum was trying to explain parliamentary realities that leave many voters cold.
The debate went much better for Romney, the former Massachusetts governor and the Republican establishment's preferred candidate. But Romney also spent precious time trying to explain why he supported bailouts for banks but not the auto industry, and why he attacks Santorum's congressional earmarks even though Romney successfully sought earmarks for the 2002 Winter Olympics.
Former House Speaker Newt Gingrich chided Romney on that point. "I just think it's kind of silly for you to then turn around and run an ad attacking somebody else for getting what you got," Gingrich said.