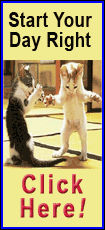 Film itself has been around for well over a century, and Sunday's Oscar nominees span every decade of the last hundred years, with an unusual emphasis on the history and artistry of cinema's earlier days.
Oscar show producer Brian Grazer says that the Hollywood & Highland Center, the hall formerly known as the Kodak where the ceremony takes place, will be redesigned to resemble a "timeless movie theater." It's a fitting transformation on a night whose key nominees are "Hugo" and "The Artist," two love songs to forebears of the flickering image.
Set amid the transition from silent cinema to talking pictures in the late 1920s, "The Artist" is the best-picture favorite and would become the only silent movie to win top honors since the first Oscar show 83 years ago.
The leader with 11 nominations, "Hugo" was made by Martin Scorsese, arguably Hollywood's biggest cheerleader for the rediscovery and preservation of early films. Adapted from Brian Selznick's children's book "The Invention of Hugo Cabret," the film centers on a boy and girl in 1930s Paris who unravel a mystery surrounding French film pioneer Georges Melies (Ben Kingsley), whose fantastical silent-era shorts of 100 years ago or more are re-created by Scorsese using the best technology modern digital Hollywood has to offer.
Known for tough, violent adult stories such as "Raging Bull" and best-picture winner "The Departed," Scorsese clearly had a ball making his first digital 3-D film. Using today's technology to revisit the past also imparted a sense of the innovation required by Melies to make his films in the first place.
"Every time we put the camera in a position I wanted, we discovered new ways to do things or wrong ways to do things," Scorsese said. "We had to rediscover how to make movies every day, every setup."
"The Artist" is right behind with 10 nominations and also is favored to win best director for French filmmaker Michel Hazanavicius. People thought he was a little soft in the head a few years ago when Hazanavicius pitched his idea of making a black-and-white silent film the way almost no one has since the 1920s.
Modern dabblers in silent cinema often take an avant-garde approach, but Hazanavicius wanted to make something for general audiences. After all, there was a time when silent movies were the only game in town, and Charles Chaplin, Buster Keaton and D.W. Griffith were the blockbuster filmmakers of their era.
Writer-director Hazanavicius settled on a comic melodrama following the decline of a silent-film superstar (best-actor nominee Jean Dujardin), whose career crumbles in the sound era and who finds a guardian angel in a rising talent (Berenice Bejo, a supporting-actress contender and Hazanavicius' real-life romantic partner).
"One of my concerns was how people are going to react to a silent movie now," Hazanavicius said. "I thought it was easier for people to accept, to see a silent movie if the subject is about a silent actor. As an audience, to say, `OK, it's a silent actor, it's a silent movie. Why not? That makes sense.'"
On a nostalgia-tinged night, it also makes sense that Billy Crystal returns as Oscar host for the first time in eight years. The most-beloved modern Oscar emcee, Crystal is back for his ninth time, second only to Bob Hope, who was host at 19 ceremonies.