Stanley Paulis Sr.
[February 24, 2012] LINCOLN -- Stanley F. Paulis Sr., 87, of Lincoln, died Thursday, Feb. 23, 2012, at 7:45 a.m. at Memorial Medical Center in Springfield.
(Below is a copy of the obituary from the funeral home.)
___
Lincoln: Stanley F. Paulis Sr., 87, of Lincoln died at 7:45 A.M. Thursday February 23, 2012 at Memorial Medical Center in Springfield, IL.
Mr. Paulis was born on November 15, 1924, the son of Leo and Cecilia Paulis of Lincoln, IL. He married Dorothy Ann Musick on April 9, 1948. She preceded him in death on June 21, 2011.
Mr. Paulis is survived by two sons: Stanley F. (Juanita) Paulis Jr. and Michael (Mary Ann) Paulis both of Springfield, IL, and one daughter: Helene Paulis of Lincoln, IL., four grandchildren: Jeff (Heather) Paulis, Julie Paulis, Michel (Ron) Watkins and John (Krystin Hovanes) Paulis. Three great grandchildren: Michael and Ava Watkins and Avery Paulis.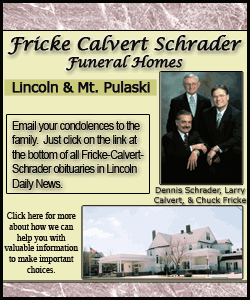 Stanley was employed as an electrical service man for Ameren Cilco until his retirement in 1987. He was a member of Holy Family Church in Lincoln, Knights of Columbus and the VFW.
Stanley donated his body to medical science. There will be no services or visitation. Arrangements are being handled by Fricke-Calvert-Schrader Funeral Home, Lincoln.
Stanley was a member of the 891st Bombardier group that flew over Omaha Beach on D-Day as a tail gunner on a B-26 where he strafed positions behind enemy lines. He was a pony league baseball coach for many years in the 1960ís. He was an avid St. Louis Cardinal fan as well as an accomplished artist and donated many paintings to Ducks Unlimited. He loved animals.
Memorials may be made to the Logan County Humane Society or the Land of Lincoln Honor Flight.