Flu facts
From the Logan County Department of Public Health

Send a link to a friend
[February 29, 2012] Flu is off to a late start this season. The first week in February was the first time this flu season that the percent of positive flu cases went over 10 percent, which generally is an indicator that the flu season is starting. If you have not received a flu vaccine yet this season, you should get your vaccine now. It takes about two weeks after receiving your flu shot for the body's immune response to fully kick in. Everyone 6 months and older should receive a flu vaccine annually.
Though still too early to tell for the season, so far, most of the U.S. influenza viruses tested have been well-matched to the flu vaccine. Most of these viruses have been influenza A viruses, H3N2, but in recent weeks the proportions of 2009 H1N1 viruses have been increasing, particularly in states bordering Mexico.

Flu seasons vary every year and are unpredictable as to when the season starts, when it peaks and when it ends. Flu season can begin as early as October and last as late as May. With positive flu cases starting to appear in Logan County and more rapidly across the United States, getting a flu vaccine now can still prevent you and your loved ones from getting the flu.

The hours for vaccines at the health department are Monday through Friday, 7:30 a.m. until 4 p.m. No appointment is required. The influenza vaccine will also be available on the HOPE Mobile during its regularly scheduled stops.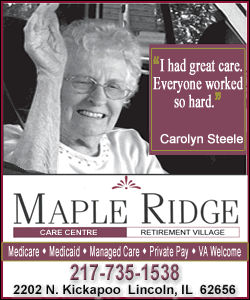 The cost of the seasonal flu shot is $30 for adults, $16.75 for children 6 months through 18 years of age who have no health insurance or health insurance that doesn't cover vaccines, and free to those with a Medicaid or Medicare card.
For more information on the seasonal influenza vaccine, call the Logan County Department of Public Health at 217-735-2317.
For more information, visit www.cdc.gov and www.lcdph.org.
[Text from file received from the Logan County Department of Public Health]